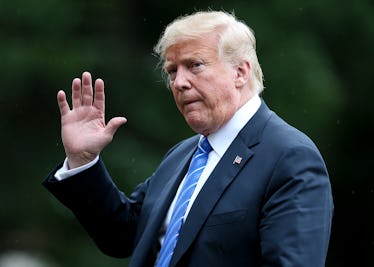 These Twitter Clapbacks At Donald Trump Are Some Award-Worthy Burns
Pool/Getty Images News/Getty Images
By now it's no secret that President Donald Trump is a bigly fan of Twitter. He's been known on more than one occasion to use his character limits to take shots at everyone from the "fake news media" to fellow politicians. Trump can definitely dish it, but here are the funniest times Twitter clapped back at Donald Trump, because if he can dole it out he better be able to take it.
Trump's relationship with Twitter isn't great. I mean, he likes it but it's not always the public's cup of tea. Since the campaign trail Trump has used his personal Twitter account to sling insults at anyone he doesn't agree with. The president' tweets are so infamous that there's even a site devoted just to archiving every tweet he's ever sent. In case you lost track, according to the Trump Twitter Archive, since Trump entered the Oval Office he's sent 147 tweets about "fake news," 234 tweets with the word "loser" in them, 222 tweets with "dumb" or "dummy" in them, and 183 with the word "stupid." (There's more, but you get the picture.) While most of us are still in awe of just how much POTUS tweets, others know how to serve him a hot dish of grade A clapback.
Check out the best of the best below.