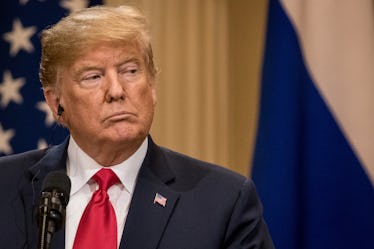 Trump Tried To Clear Up His Comments With Putin About The Election But Just Made It Messier
Chris McGrath/Getty Images News/Getty Images
The world watched as President Donald Trump and Russian President Vladimir Putin held a joint press conference in Helsinki on Monday, July 16. Not that anyone really expected smooth sailing from this controversial meeting, but it was what happened after the press conference that really threw me. After the meeting, Trump decided to take to Twitter and offer more insight into what he said in the press conference, and Trump's tweet about the Putin Helsinki summit just begs so many more questions. Like there's not enough to unpack there already.
As you can imagine, Trump and Putin had a lot to talk about during their summit in Helsinki on Monday, like Russian interference in the 2016 presidential election. Although the U.S. intelligence community is in agreement that Russia did in fact meddle in the election, Putin has denied interfering and Trump has frequently publicly doubted that Russia meddled. That issue once again became a hot topic during the joint press conference following Trump and Putin's closed-door meeting. In the press conference, the two leaders danced around the issue of Russian election meddling, with Putin denying that Russia had meddled in the election, but also stating that he wanted Trump to win. And asked about who he would believe between the U.S. intelligence community and Putin, Trump cited Putin's denials. "President Putin just said it's not Russia," he said. "I don't see any reason why it would be."
Following the conference, Trump doubled down. In a tweet, he said that he has confidence in his intelligence team, but everyone should stop focusing on the past. Trump wrote,
As I said today and many times before, 'I have GREAT confidence in MY intelligence people.' However, I also recognize that in order to build a brighter future, we cannot exclusively focus on the past – as the world's two largest nuclear powers, we must get along! #HELSINKI2018
Except, despite what he says, Trump doesn't appear to actually trust his intelligence people. He's publicly doubted the U.S. intelligence community's assessment of Russian election meddling, calling it a "hoax." The president is constantly calling special counsel Robert Mueller's probe into possible Russian collusion in the 2016 election a "witch hunt," and has attacked the credibility of the Federal Bureau of Investigation (FBI) on numerous occasions.
Most recently, Trump claimed the FBI might have inserted spies into his campaign. According to CNN, he tweeted about them going after "phony collusion" with Russia. His May 23 tweet read,
Look how things have turned around on the Criminal Deep State. They go after Phony Collusion with Russia, a made up Scam, and end up getting caught in a major SPY scandal the likes of which this country may never have seen before! What goes around, comes around!
As of July 14, Mueller's investigation had indicted 35 people on charges related to Russian election meddling.
So given all that, it's a little surprising that Trump would do such a 180 turn and start talking about how much faith he has in the intelligence community. Hey, if he does, maybe he can take their advice to protect the 2018 midterms against Russian meddling? Just a thought.