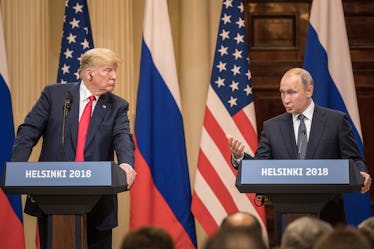 Trump & Putin Answered Questions About Election Meddling & It Was Completely Wild
Chris McGrath/Getty Images News/Getty Images
Following a bilateral meeting on Monday, July 16, U.S. President Donald Trump and Russian President Vladimir Putin held a joint press conference regarding closed-door meeting. The meeting between the two world leaders, they said, included discussion about the FBI investigation into Russian interference in the 2016 presidential election. When pressed about the topic, both Trump and Putin's answers about election meddling at the press conference Monday were jaw-dropping.
"During today's meeting I addressed directly with Putin the Russian interference in U.S. elections," Trump told the media gathered in Helsinki, Finland, on Monday. "He feels very strongly about it, and he has an interesting idea."
The meeting came on the heels of an indictment issued Friday against 12 Russian nationals, including charges of hacking the emails of Democratic National Committee (DNC) and a "sustained effort" to interfere in the election. Those indictments came as part of special counsel Robert Mueller's investigation on the 2016 presidential election.
In his remarks, Putin denied any collusion, and said, "The Russian state has never interfered and is not going to interfere into internal american affairs, including election processes."
But when asked whether he wanted Trump to win the election, Putin confirmed he did, saying, "Yes I did. Because he talked about bringing the U.S.-Russian relations back to normal."
Trump, for his part, echoed the line that there was no collusion between Russia and the Trump campaign during the election multiple times, saying, "There was nobody to collude with. There was no collusion with the campaign."
The U.S. president also referred back to Putin's denial. Asked about the U.S. intelligence community's findings further, Trump added, "I have great confidence in my intelligence people, but I will tell you that President Putin was extremely strong and powerful in his denial today."
As to why the U.S. should believe that there was no collusion with Russia, Trump brought up his electoral victory.
"That was a well-fought battle, we did a great job," Trump said. "We ran a brilliant campaign, and that's why I'm president."
Citing the conflicting information presented by Putin's denial and Friday's indictment, a reporter asked Trump point blank who he believes, between the U.S. intelligence community and Putin.
"President Putin just said it's not Russia," Trump said in his response. "I don't see any reason why it would be."
But the Russian president said he would work with the U.S. to get to the bottom of the Mueller investigation. Citing an existing international treaty on criminal activity, Putin said U.S. officials could ask the Russian government to question Russian individuals U.S. officials believe may have information on crimes related to the issue and said that U.S. officials could be allowed to be present for those interrogations.
The press conference was immediately met with resounding backlash back on home turf.
"Donald Trump's performance at his summit with Putin today was the most astonishing display of weakness and submission that I have ever seen from an American President," wrote Rep. Don Beyer (D-Virginia) in a tweet following the conference.
CNN anchor Andersoon Cooper, for his part, called the performance "disgraceful," while New York Times columnist Nicholas Kristof went a notch beyond, labeling it as "inexplicable."
The Washington Post's Greg Sargent posited that Trump's display on Monday, by deferring to Putin's denials, in itself amounts to another layer of collusion.
"Donald Trump's press conference performance in Helsinki rises to & exceeds the threshold of 'high crimes & misdemeanors,'" wrote former CIA director John O. Brennan. "It was nothing short of treasonous. Not only were Trump's comments imbecilic, he is wholly in the pocket of Putin. Republican Patriots: Where are you???"
Criticism came from across the political aisle, as a tweet from from Republican Rep. Elise Stefanik of New York shows.
While it remains unclear what, if any, impact Trump's remarks at the press conference Monday might have on the Mueller investigation itself, there's no question that the president's position has upended the national conversation surrounding it.