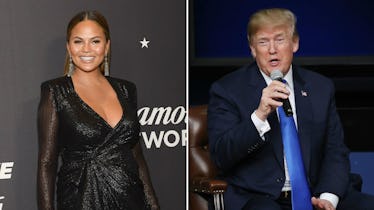 8 Times Chrissy Teigen Straight-Up Dragged Donald Trump On Social Media
Tara Ziemba/Mark Wilson/Getty Images Entertainment/Getty Images
Celebrity relationships and friendships are a rare breed. These famous faces have their lives played out in front of the masses, whether it's the good, the bad, or the straight-up shady. In Elite Daily's new series, It's Complicated, we're highlighting the biggest celebrity "feuds" that took over Hollywood and dominated our Sunday brunches for weeks on end. We'll take a deep dive into the lives and social media feeds of our favorite stars and dissect what happened in front of the camera, what went down behind the scenes, and everything you might have missed in between.
When it comes to Chrissy Teigen on Twitter, the world knows that there is truly no match. She's honest, hilarious, and witty as hell, and I love her all the more for it. She has zero problem saying what she feels, and stands up to her haters pretty much on a daily basis. To sum it up, Chrissy Teigen is pretty much the queen of Twitter, and there's really no denying it. There's *also* no denying that she's not the biggest fan of Donald Trump, and makes sure to let the Twitterverse know how she feels. So if you feel like reading through a beautiful montage of some of Chrissy Teigen's tweets about Donald Trump, just sit back and relax, because it's one helluva ride.
The cookbook author, model, and Lip Sync Battle commentator hasn't just been roasting Donald Trump since his presidential election in November of 2016. Teigen has been throwing shade at Donald Trump for years and years — dating all the way back to 2011. Yes, fam, we've been #blessed with Teigen trolling Trump for many moons, and I'd like to share a collection of my absolute favorites with you.
So without, further adieu, may I present to you the most legendary tweets about Donald Trump that Chrissy Teigen has given our beautiful world.
1. When Chrissy Teigen called Donald Trump a "joke":
Let's start with the oldest tweet that we know of from our girl Chrissy about Donald Trump. On April 27, 2011, Teigen told the world that she thought Donald Trump was a "joke." She wrote,
donald trump sure turned into a joke right? as opposed to what he was before which was so not a joke or anything.
Life from here on as we knew it changed. This was the beginning of a very, very long Twitter feud.
2. When Chrissy Teigen shared her thoughts on having dinner with Donald Trump:
If you know Chrissy Teigen, then you know she's a total foodie (go buy her cookbook, y'all. It is serious eats.). But there's apparently one meal that she'd refuse to eat, and that's one with Donald Trump. On May 29, 2012, Teigen wrote,
"win" a dinner with donald trump? i can't even explain how far out of my way I'd go to avoid one.
For a food-lover to resist a meal, you KNOW that means bad blood.
3. When Chrissy Teigen roasted the hell out of Donald Trump with just one picture:
On Aug. 26, 2016, Teigen was jet-setting somewhere around the world, but stopped to share a joke on Twitter during her plane ride. She was watching American Psycho and wrote,
Watching a cool Donald Trump biopic on the plane.
We need some serious ice for that burn.
4. When Chrissy Teigen wished Donald Trump a happy birthday in an unconventional way:
Some people send cards for a person's birthday. Others take the birthday boy or girl out for a drink (or five). But Chrissy Teigen's birthday wish for Donald Trump was simple, and it was screenshotting how to deactivate your Twitter account and captioning her tweet, "@realDonaldTrump happy birthday":
Not going to lie, this is probably one of my favorite Teigen tweets of all time. You tell 'em, Chrissy.
5. When Chrissy Teigen suggested that Donald Trump should leave the country:
On Feb. 3, 2017, Trump tweeted that "We must keep "evil" out of our country!", but Teigen was like, "Um, you're totally right one this one."
Then she, you know, asked him when he wants his Uber to arrive:
Tell us how you *really* feel, Chrissy.
6. When Chrissy Teigen said she wants to be a Sim character, in hopes that reality is not actually real:
I think by now, you're all pretty well aware of the fact that Chrissy Teigen pretty much can't stand Donald Trump and his presidency. But on May 31, 2017, she revealed that she prays that her life is merely a video game, because she can't deal with Trump's antics. She wrote,
@realDonaldTrump you are so insane that I pray every day I am a sim being played by aliens
I mean... can't we all understand this sentiment? Even just a little bit? Don't we all sort of hope we're being Punk'd with this thing called life?
And, if this is true... can I please choose a different character for myself? K, thanks.
7. When Chrissy Teigen straight-up called Donald Trump a "national embarrassment":
Donald Trump has a way of going overboard with his tales, and on June 29, 2017, it was no different. After taking to Twitter to bash television host Mika Brzezinski, telling the internet that she begged to spend New Year's Eve with him, Teigen fired back. She wrote,
You are a national embarrassment. It's like you have no idea how to even fake being a normal human being. You are the proud type of insane.
Damn, Chrissy. There's literally zero sh*ts given with this tweet, and I'm here to tell you, I don't hate it.
8. And finally, Chrissy Teigen's tweet that was ultimately the straw that broke the camel's back:
After years and years of trolling Trump's Twitter account, on July 23, 2017, Teigen gave one of Trump's tweets a short and simple response: "Lolllllll no one likes you."
No confusion here. This tweet gets straight to the point:
And, despite the fact that through the years, Teigen has been super forthcoming about all of the reasons why she doesn't like Trump as a person, that one must have hit the hardest, because Donald Trump then blocked her.
She took a screenshot of the notification and showed her fans the news on Twitter. She wrote,
After 9 years of hating Donald J Trump, telling him "lol no one likes you" was the straw
Anddd that about sums this entire feud up.
Now that Donald Trump has blocked Chrissy Teigen, we long for the days where the two were merely enemies coexisting. But hey, at least we have so many beautiful memories to look back at!