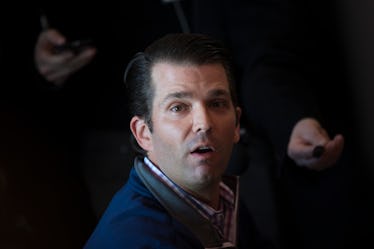 The Funniest Times Twitter Clapped Back At Donald Trump Jr.
Drew Angerer/Getty Images News/Getty Images
The president's eldest son, Donald Trump Jr., is known for taking shots at people on social media and then getting dunked on in return. I decided to compile a list of the funniest times Twitter clapped back at Donald Trump Jr., because this is the content that Americans need right now to break up the terribleness of the news cycle.
It's no secret that Trump Jr. is as brash and brazen as his father — big egos clearly run in the family. Their real estate empire has pressured the Trumps into tiny little diamonds of hyper-masculinity and alpha-maleness.
"I think Don gets it a lot. Everyone talks about Ivanka, but Don also has a lot of pressure on him," a former Trump adviser told GQ in a June 21 profile of Trump Jr. "Everyone wants approval from the father, especially if the father is Trump. He has a special place in his heart for Ivanka. But Don is the eldest son, he's named after him, he's doing the nitty-gritty on the real estate, he's got a lot of responsibility, and Trump is tough on everybody. He's the alpha male. He sees his son as somebody he has to groom."
That alpha-maleness was on full display last Halloween, when Trump Jr. famously attempted to make a cute Halloween photo of his daughter about socialism — but in the process, he misunderstood what socialism is. It's that kind of disconnect that makes him almost endearing but still falls short. Is there anything more entertaining than a confident buffoon-like remark? Anyway, I digress.
"I'm going to take half of Chloe's candy tonight & give it to some kid who sat at home," Trump Jr. tweeted in October 2017. "It's never to early to teach her about socialism."
The butt of his joke is clear — socialism is unfair... but socialism doesn't actually require you to take candy from children. The photo got the meme treatment, with comedian and actor Zach Braff delivering a pretty biting response to the tweet.
Then, there was that whole Roy Moore campaign in Alabama in November 2017, when President Trump refused to denounce Moore for allegations of romantically pursuing minors, apparently siding with him by pointing out, "he denies it." In May 2018, Trump Jr. referenced the Alabama election — which Moore ended up losing — as a "fumble" in a tweet. It raised a whole bunch of questions, especially since the president endorsed Moore. The Twitter dunking soon commenced.
CNN political analyst Joan Walsh quickly replied to Trump Jr.'s tweet with a snarky question: "Your father endorsed Roy Moore in Alabama, Don. So who fumbled?"
OUCH.
On June 4, Trump Jr. defiantly waded into the #MeToo discourse regarding comments that former President Bill Clinton made about being a victim in the Monica Lewinsky scandal. I mean, Clinton's comments aside, the confidence required to be Donald Trump Jr. and saunter into a nuanced discussion about #MeToo is astounding to me. Also, apparently it was astounding to Jason Bailey, a freelance writer who deftly referenced The Godfather in his roast of Trump Jr. "Trust me, Fredo: you should sit this one out," he tweeted.
Last, but certainly not least on this Twitter greatest hits list, is this photo of Trump Jr. sitting on a stump. My yellow journalism headline riff: Trump Sits On Rump, Stump, Looking Stumped. (Please clap.)
Seriously though, this photo was a saving grace when it went viral back in March 2017. The posture, the facial expression, everything about it was begging to be meme'd. The internet did not disappoint.
Obviously, there's too many Trump Jr. memes to share in one place — even as I type this I'm finding more meme-worthy photos on his Instagram page. Juvenile as it may be, it makes me laugh, and laughter is important right now. It's called self-care.