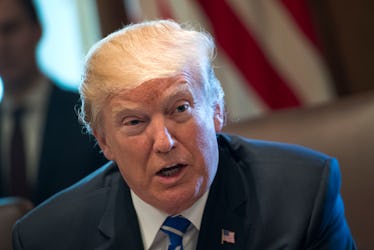 Donald Trump Finally Commented On Roy Moore Allegations, & It's Exactly What You Expected
Pool/Getty Images News/Getty Images
Despite the allegations that the Alabama GOP candidate for Senate, Roy Moore, propositioned teenage girls, had unwanted sexual contact with them, and was allegedly banned from a mall for making advances, the president still appears to support him. Speaking to reporters on Nov. 21, Donald Trump effectively threw his support behind the embattled candidate because he "totally denies it." While it might not be a surprise, Donald Trump's comments on the Roy Moore allegations are pretty infuriating.
Asked by a reporter if an accused child molester is better than a Democrat, Trump said that Moore denies the accusations. "He says it didn't happen and, you know, you have to listen to him also. You're talking about — he said 40 years ago this did not happen," Trump said.
The president also compared Moore to his Democratic opponent Doug Jones. "I can tell you one thing for sure. We don't need a liberal person in there, a Democrat," he said.
On Nov. 9, The Washington Post published allegations from four women who said that Moore, formerly a state judge, propositioned them when they were between the ages of 14 and 18, when he was in his thirties. One of the women, Leigh Corfman, recounted being approached by Moore while she waited for her mother at a custody hearing in 1979. She alleges that he touched her inappropriately while they were on a date.
"Please just get this over with. Whatever this is, just get it over," Corfman told the Post she was thinking during the encounter.
Since the initial report, two more women have come forward in the Post with allegations that Moore propositioned them when they were teenagers working at a local mall. Another accuser, Beverly Young Nelson, alleged at a press conference that Moore sexually assaulted her in a car.
Moore has denied the allegations and called them "fake news."
Trump's comments about Roy Moore are the first time he's addressed the allegations since the White House released a statement the day after the Post's initial report. Trump's latest comments on Moore's denial doubled down on the initial remarks.
"The president believes we cannot allow a mere allegation, in this case one from many years ago, to destroy a person's life," White House Press Secretary Sarah Huckabee Sanders said in a statement on Nov. 10. "However, the president also believes that if these allegations are true, Judge Moore will do the right thing and step aside."
It makes sense that Trump wouldn't want allegations from "many years ago" to impact the electability of Moore. During the 2016 campaign, Trump was accused of sexual misconduct by over a dozen women. The accusations included nonconsensual groping and kissing. And, of course, there was a recording of Trump on a hot mic bragging that he could "grab" women by the "pussy" published in the Post on Oct. 8 of 2016.
Since allegations of sexual misconduct emerged against producer Harvey Weinstein, women in Hollywood and beyond have emerged en masse with their own stories of harassment and assault.
While Trump implied that Moore's denials are to be believed, he had a message for women who are coming forward. "I think it's a very special time, a lot of things are coming out, and I think that's good for our society and I think it's very, very good for women and I'm very happy," he said.
While Trump said he believed Moore's denials, it's unclear if he believes the women he seemingly praised for coming forward. In the past, Trump has called his own accusers "horrible liars" and said he was the victim of a "political smear" campaign. Moore has taken a page from Trump's playbook, calling the accusations against him "fake" and "unproven."
Just when you think it can't get any worse, it does — when the president says he'd prefer a man accused of sexual misconduct with minors over a Democrat. But while it may be awful, with so many accusations against Trump himself, it's not exactly a surprise.