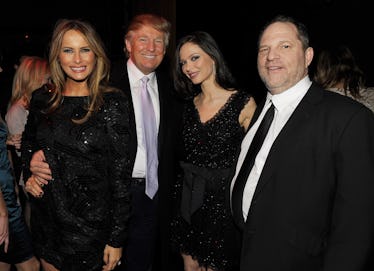 Donald Trump Commented On The Harvey Weinstein Allegations, & It's Pretty Ironic
Stephen Lovekin/Getty Images Entertainment/Getty Images
Entertainment mogul Harvey Weinstein has been fired from the film company that bears his own name after the New York Times revealed on Oct. 5 that he had reached at least eight settlements with women who accused him of unwanted physical contact and sexual harassment over three decades. But guess who wasn't surprised to learn about the accusations? The president. And Donald Trump's response to Harvey Weinstein's sexual assault allegations are ironic. "I'm not at all surprised to see it," he said in an CNN video on Oct. 7.
He made his comments on the same weekend that marked the one-year anniversary when his hot-mic comments in an Access Hollywood video were made public. In the video, Trump boasted that he could grab women "by the pussy."
The president's comments about Weinstein were viewed as a glossing over, to put it generously, of his own accusations of sexual harassment. During the 2016 presidential campaign, more than 10 women came forward accusing Trump of sexual misconduct over the years.
Asked if he thought Weinstein acted inappropriately, Trump responded, "Well, he says they were inappropriate." And, when asked again about his own comments on the Access Hollywood tape, Trump again called them "locker room talk," according to CNN producer Elizabeth Landers.
One might say that Trump, who described boasting about groping and physical assault as merely the stuff of boys talking in the locker room, isn't exactly the best arbiter of inappropriate behavior.
In response to the New York Times exposé, for his part, Weinstein, who also founded Miramax, issued an apology. "I came of age in the '60s and '70s, when all the rules about behavior and workplaces were different... I cannot be more remorseful about the people I hurt, and I plan to do right by all of them," he wrote.
The New York Times investigation documented a series of accusations in which Weinstein allegedly said he would boost a woman's career if she accepted his sexual advances, allegedly "badgered" a woman into physical contact, and allegedly used a female employee to arrange get-togethers with "vulnerable women who hope he will get them work."
At least two recognizable actresses emerged with accusations against Weinstein, Rose McGowan and Ashley Judd. McGowan received a settlement from the exec in 1997. Ashley Judd, for her part, went on the record with the Times. "How do I get out of the room as fast as possible without alienating Harvey Weinstein?" she described, recollecting a meeting at a hotel where he allegedly asked if she would watch him shower or if he could give her a massage.
While many outside of Hollywood were surprised by the news, other reporters and insiders noted that they had been waiting for the open secret to emerge in public.
In addition to his reputation as a Hollywood power player for advancing a number of films that won best-picture Oscars, Weinstein was known as a liberal. He hosted a Hillary Clinton fundraiser, hired President Barack Obama's eldest daughter, Malia, as an intern, and even marched in Sundance's Women's March, according to the Times.
The allegations against Weinstein come in a year when other high profile figures have been brought down by allegations of sexual harassment and assault.
Over the summer, Bill Cosby faced a mistrial in his case over allegedly drugging and assaulting Andrea Constand. In April, Fox News anchor Bill O'Reilly left the network after his own scandal came to a head, following the Chairman and Chief Executive Roger Ailes, who stepped down previously due to sexual harassment accusations.
The news of the allegations of Weinstein's firing followed a week where toxic masculinity dominated the headlines, from the House's push to restrict abortion access, to the Trump administration cutting off an Obama-era mandate for subsidized birth control, and another march in Charlottesville by white nationalists. Weinstein's firing from The Weinstein Company is an ounce of apparent justice in an age where the leader of the free world could just as well be nicknamed the sexual harasser-in-chief.