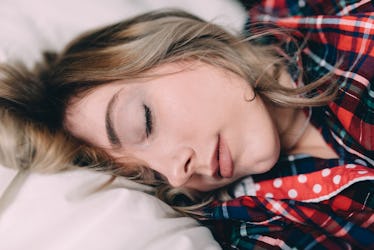 These 5 Natural Sleep Aids Help You Drift Off Effortlessly When You Crawl Into Bed
Am I the only one who's noticed falling asleep was a lot easier when there was someone reading to us, preparing warm milk over the stove, or singing a lullaby? Nowadays, falling asleep, staying asleep, and waking up feeling revitalized isn't natural — it's work. Tossing and turning, and staring at the clock to watch the digital numbers change throughout the night, is torture, but if you don't want to pop prescription pills to doze off, what sort of natural sleep aids are there that can grant you a good night's shut-eye without any unnecessary repercussions in the a.m.?
If I've learned anything from studying sleep and how to get a decent amount of rest, it's this: You can definitely rule out the ol' "trick" of counting sheep. Likewise, drinking a glass of water right before bed might work for some people, but there's also a good chance your urgent need to pee will wake you up in the middle of the night. Listening to music to make you tired is always a solid fallback plan, too, but there has to be something a little more unique you can put into practice at night to ensure your snooze is everything you wanted and more. To get you started, here are a few all-natural sleep remedies to try when you can't seem to wind down.