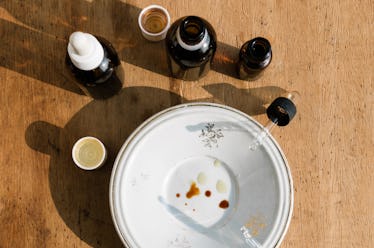 Coming Home To The Scent Of Any Of These 8 Essential Oils Is Sure To Put A Smile On Your Face
Essential oils are the best daily accessory you're probably not using right now. From their medicinal properties to their varied fragrances, there's an essential oil out there for everyone. Especially nowadays, with long hours at work and social media keeping us constantly on our toes, sometimes you need a little extra assistance to just take a deep breath after a long day. This is where essential oils that make you happy come into play.
Essential oils can work to combat depression, anxiety, and tons of other forms of stress. What's more, there are so many different fragrances and herb sources to choose from that it's basically guaranteed you can find and fall in love with at least one essential oil out there.
From the tea tree to your favorite fruit, essential oils often come from parts of nature that trigger feelings of comfort and relaxation. It certainly doesn't hurt that they're natural sedatives, either. It doesn't matter if you have a diffuser, or you just want to dab a few drops on your wrist and temples. An essential oil is a perfect and easy way to incorporate a little bit more "me time" into every one of your days.
Here are eight essential oils that you'll be happy to come home to after a long and chaotic day.