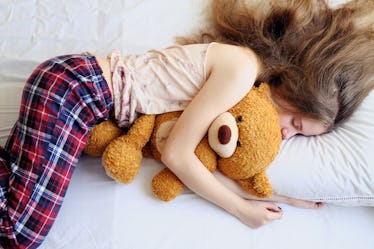 Decorate Your Room With These 7 Scented Sleep Aids For The Best Snooze Of Your Life
When I was in eighth grade, my sister moved into college and I had my own room for the first time. My parents generously offered to let me redesign my space however I wanted and, let me tell you, hindsight is definitely 20/20. Granted, I was a 14-year-old girl whose favorite color was purple and loved everything velvet, but if I could do it over again, my room would be less pretty-pretty princess, and more spa-like oasis with scented sleep aids to accent my decor. If I've learned anything from studying health and wellness, it's that, unlike neon pink curtains, a good night's sleep is always on-trend.
Call me naive, a non-believer, what have you, but I guess because I've never really had a keen sense of smell, I didn't buy into the whole aromatherapy scene until I was immersed in it for my job. Once essential oils caught on, and studies kept rolling in on the powers of aromatherapy, I couldn't deny there was some kind of connection there. As it turns out, certain smells can affect your sleep, so if you've noticed your sleep quality is lacking, you might want to consult your nose.
If you're still skeptical on how adding scents to your sleep space can take your good night's rest up a notch, allow me to explain. Aromatherapy is part of what makes spa visits so incredibly relaxing. It's why melted chocolate chips encrusted in baking dough makes you nostalgic. It's a kind of sensual treatment that usually features some sort of plant extract or essential oil, that calms your mind and body.
AromaWeb reports that, while scented sleep aids, such as essential oils, won't cure diagnosable sleep disorders, or put an end to ongoing insomnia, they can "help you fall asleep faster," and stay asleep through the night. If that's the case, why wouldn't you give this method a try? To help you get started, here are a few fragrant products to add to your bedroom decor if you're looking to create the ultimate sleep sanctuary.