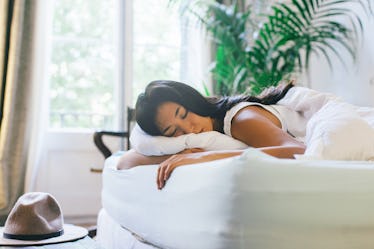 Having These Plants In Your Bedroom Is The Key To Getting A Good Night's Sleep
Have you ever considered going plant-based in the bedroom? No, I don't mean getting freaky with your succulents (though if that's your closeted fetish, do you boo). I'm referring to your bedroom decor, and setting your space up for optimal sleep quality. When you're constantly tossing and turning, having a green thumb for spice gardens and planting floral arrangements in your backyard can be beneficial behind closed doors, especially at night, because plants that help you sleep better are actually a thing, and they aren't an exotic bloom, either.
Once I went plant-based in the kitchen, I developed this newfound fascination with all things earthy. Though I'm still not convinced I'm actually capable of taking care and sustaining the life of a potted specimen in my apartment, it's definitely been on my mind lately. (This also might be me trying to fill the gigantic void in my heart that I feel without a puppy in my home, but I digress).
Not only will adding a bit of nature to your bedroom add character to your space, but plants can also deliver a slew of health benefits by purifying the air you breathe, brightening your mood, and improving the way your brain functions. But the magic of shrubbery work in different ways: Similarly to how certain essential oils derived from plants cater to specific needs like stress relief and muscle aches, different kinds of flowers and shrubbery can also wind down your body and mind before and during sleep. Here are a few of the best plants to add to your bedroom.