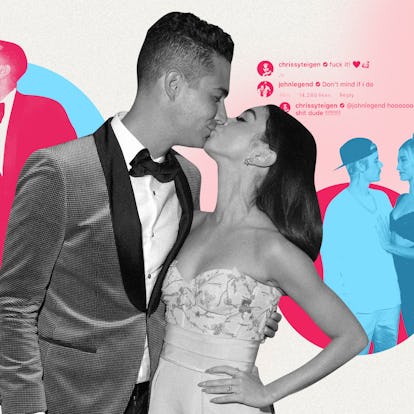 25 Times Celebs Left Thirsty Comments On Their Partners' IG Pics
We get it, you're ~in love~.
Lester Cohen/Getty Images Entertainment/Getty Images
While some celebrities couples prefer to keep their relationships on the down-low, others flaunt their love loud and proud, and I couldn't be more grateful for them. (Thanks for letting me be a part of your beautiful journey, Chrissy Teigen and John Legend.) And while I love gushy interviews and cute couples pics, I especially love when famous folks slide into their lovers' Instagram comments. Over the years, the IG account @commentsbycelebs has captured some seriously sexy comments made by celebrities on their partners' Instagrams, and while some of those comments keep things tame, others are borderline NSFW.
Unsurprisingly, Hailey Baldwin and Justin Bieber are among the celeb duos who frequently show each other affection on social media. Sarah Hyland and Wells Adams also aren't strangers to leaving each other NSFW IG comments. And of course, Teigen and Legend can never resist sliding into each other's IG comments sections. Don't ask me why, but something about virtual PDA is far less icky than actual PDA, and these hot-and-heavy IG comments truly take the cake. (Plus, they all serve as great inspo if you're looking to leave a sexy comment on your own partner's Instagram). Please enjoy at your own risk.