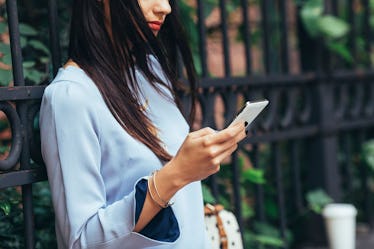 Leave These 24 Comments On Your SO's Instagram To Make Their Day
Back in the old days, PDA meant making out with your SO at a party. But now, you and your partner don't even have to touch to make onlookers cringe, thanks to Instagram, Snapchat, Facebook, and the ability social media gives us to spread overzealous, overbearing digital affection. There's always going to be a couple on your feed that fills each other's comment section with embarrassingly over-the-top proclamations of love. Everyone gets it — you're hot for each other. But if you want to keep your followers (and your friendships IRL), there are subtler ways to let your lover know how you feel with Instagram comments (and without making everyone else throw up in their mouths a little).
There's a fine line between flirtatious and nauseating, friends. When complimenting your partner on social media, you probably want to keep any talk that would be better reserved for your next dinner date (or your bedroom) away from prying eyes. Think of it this way: Would you constantly remind your SO how much you love them (and love whatever is beneath their clothes) in front of your friends and family? I didn't think so. There's no need to do it on social media then. Seriously. Spare us all.