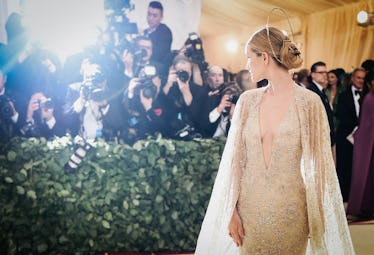 The 2019 Met Gala Theme Has Been Announced & Spoiler Alert: It Has Nothing To Do With Actual Camping
Jason Kempin/Getty Images Entertainment/Getty Images
Every year, the Metropolitan Museum of Art's Costume Institute rebrands itself with a stunning new exhibit, celebrated at the annual Costume Institute Gala, better known as the Met Gala. Planned by Vogue editor-in-chief Anna Wintour and her team, and co-hosted by the most of-the-moment celebs, it's one of the most major red-carpet events of the year, and attendees spend months working with designers to plan attire that works with the theme. Fortunately, said theme is announced far in advance to allow for this pre-planning, and the official 2019 Met Gala theme has already been released, so get excited. Next year's theme will revolve around the concept of "camp." But spoiler alert: This actually has nothing to do with the great outdoors.
Before we tackle the beast that is camp, let's talk about the 2019 gala co-hosts. In 2018, Rihanna, Donatella Versace, and Amal Clooney were the celebrity hosts of the event, which was themed "Heavenly Bodies: Fashion and the Catholic Imagination." It seems that, for 2019, gala planners have upped the ante even more, as Lady Gaga, Harry Styles, and Serena Williams will co-host the big night. Can you even fathom a trio this major? They'll be the living, breathing definition of a triple threat, and I've got chills just thinking about it. If celebs are confused by the camp theme, they'll have to learn a thing or two, because nobody wants to embarrass themselves in front of Mother Monster, my favorite former 1D member, and the greatest athlete alive. Just saying.
Lady Gaga hasn't attended the event since the 2016 "Manus X Machina"-themed night, where she singlehandedly made bodysuits and shoulder pads an acceptable combo:
Serena Williams has attended four Met Galas over the years, and even debuted her baby bump on the carpet in this emerald green gown in 2017:
Harry Styles has actually never attended a Met Gala, so this will be his very first time gracing the iconic stairway. He's been pulling out all the stops with his style lately — see the perfect powder blue suit below — so I know he'll be serving us a lewk and a half:
I know a lot of people are asking themselves, "OK, but what is camp?" right now, and that's OK, because it's honestly supposed to be a little hard to grasp. If you aren't an English major or a fashion history buff, it's possible the word camp only brings to mind images of tents and s'mores. However, this year's theme is inspired by Susan Sontag's 1964 essay, "Camp: Notes on Fashion." In said essay, Sontag describes camp as the "love of the unnatural: of artifice and exaggeration . . . style at the expense of content . . . the triumph of the epicene style." This notion spoke to Andrew Bolton, curator at the Costume Institute, who finds camp ideals particularly resonant within our current cultural climate.
Bolton tells Vogue that, in recent years, camp "has become increasingly more mainstream in its pluralities — political camp, queer camp, Pop camp, the conflation of high and low, the idea that there is no such thing as originality." The idea of style without content might seem hard to grasp at face value, but in reality, camp is all around us in 2018, and you might be a fan of it without even realizing.
The exhibit will be sponsored by Gucci, and the brand's creative director, Alessandro Michele, tells Vogue exactly why he loves Sontag's essay. For Michele, it "perfectly expresses what camp truly means to me: the unique ability of combining high art and pop culture." The theme is particularly appropriate given the direction of the brand's latest collections, so their sponsoring the night seems like a perfect fit.
Ostentacious, flamboyant exaggeration, style without content. For me, there are more than a few major celebs that come to mind as shoe-ins to master next year's theme. Of course, co-hosts Lady Gaga, Styles, and Williams will slay in all their campy glory, but I've got a few other favorites in mind to shine, too.
Sarah Jessica Parker, who attempts and nails every theme whole-heartedly, will hopefully wear something as iconic as the headpiece she donned for the 2015 "China: Through The Looking Glass"-themed Met Gala:
Should he choose to attend, I feel like Kanye West would really enjoy designing some campy Yeezy looks.
Also, Blake Lively's latest role in A Simple Favor felt pretty camp to me, and she really wowed at this year's Met Gala, so I think she'll probably grace us with another fire look next year, train included:
The boldest, most theatrical, envelope-pushing stars are the ones who will be able to pull off a camp ensemble the best — and anyone not willing to study Sontag's essay might as well come dressed in a sleeping bag or a tent.