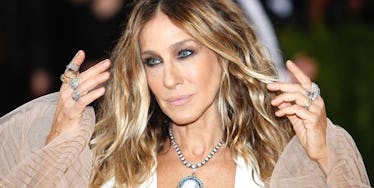 Sarah Jessica Parker Just Showed Up To The Met Gala As An Extra From 'Hamilton'
REUTERS
When Anna Wintour decided this year's Costume Institute and Met Gala theme was going to be man vs. machine, I was PUMPED. Finally, an excuse to not culturally appropriate (ahem, last year's Oriental theme) and ditch the tulle. Time for sequins! Time for coding! Time for "Hamilton"?
Sarah Jessica Parker, who always goes totally bonkers at the Met Gala (remember that giant feather mohawk JLaw turned into a parody?), used this year to profess her love for "Hamilton" and wear -- I'm not even sure what those are. Breeches? A waistcoat? Kind of looks like a pair of joggers and a tank from the Ivy Park collection, actually.
Are you Becky with the good hair, SJP?
Or are you just bragging about seeing "Hamilton" twice?
We must know, SJP. We must know.