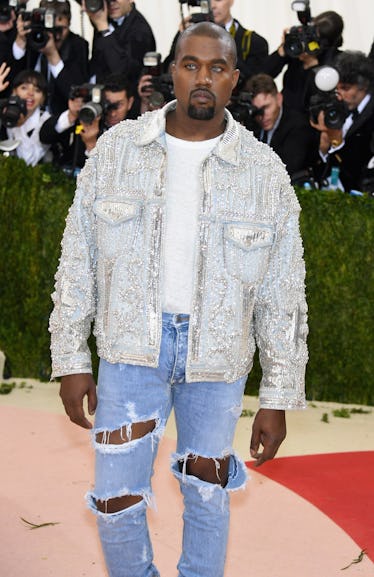 Kim Kardashian Just Revealed Why Kanye West Missed The Met Gala & TBH, I Get It
Larry Busacca/Getty Images Entertainment/Getty Images
If you saw Kim Kardashian slaying on the Met Gala red carpet on Monday, May 7, you also saw that hubby Kanye West wasn't with her. While Kim crushed it solo, I was a bit bummed, because this is one power couple who always delivers when it comes to their ~lewks~ at the Met Gala. So, how come Mr. West was not in the building? Well, we found out that Kanye West missed the 2018 Met Gala for a pretty major reason, according to his wife, and it totally makes sense in my opinion.
But first, let's talk a minute about Kim Kardashian's outfit, because she absolutely slayed. Wearing a gold sequin Versace gown with subtle crosses on the hip and waist, she totally nailed the Met Gala's theme: Heavenly Bodies: Fashion and the Catholic Imagination. She was like a gilded angel, and I may have shed a tear or two when I saw her posing on the red carpet. Kanye West tweeted a photo of his wife in her Met Gala look, captioning it with the fire emoji, because let's face it: Kim K was, in fact, pure fire. But why wasn't he there with her, arm-in-arm? Well, it's because he's been a little bit busy with work. Kim re-tweeted West's post of her at the Met Gala and wrote,
Love you babe wish you were here with meeeeee but you're only finishing up 5 albums
I mean, someone's gotta be working to bring home the bacon, amirite?
But look, even without Kanye by her side, Kim K was a damn vision that night. Just look at her in her gown:
And can we talk about how her hair and makeup were actual perfection?
That high ponytail. That smoky eye. That nude lip. Kim, you are killing me with this look.
And fret not, Mrs. West had plenty of friends and family there alongside her in Kanye's absence. Most notably was Kylie Jenner, who made her first major red carpet debut since daughter's Stormi's birth alongside boyfriend Travis Scott. Jenner was a complete and total knockout in her black cutout gown and gold glasses that literally nobody buy Kylie herself could pull off:
And new dad Travis Scott cleaned up pretty well himself, perfectly complementing Kylie:
Can we talk for a minute about #parentinggoals? Because I'm pretty sure I'll never look this cool as a mom.
Kendall Jenner also made an appearance, looking gorgeous in a pure white pantsuit with super wide legs:
How she walked around without tripping is beyond me.
Many people thought that Jenner not only missed the mark with the Met Gala's theme, but also compared her look to toilet paper. I mean, I can *sort of* understand where they are coming from with the resemblance, but I also think she looks absurdly beautiful, so my stance is somewhat neutral.
If you thought momager Kris Jenner wasn't going to get in on the Met Gala fun, you're absolutely wrong. Jenner showed up with boyfriend (???) Corey Gamble, channeling her inner stylish-yet-refined Catholic nun look:
Jenner's long black dress showed the world that she's reserved and virtuous, but the feathers on her skirt showed that she was also ready to party. Because Kris Jenner is always ready to party.
So, while it was a total bummer missing out on some Kanye fashion at this year's Met Gala, we were all fortunate enough to see a handful of the Kardashian-Jenners there, and for that, let's all be truly thankful.
We'll be ready to see you on the red carpet next year, Kanye!