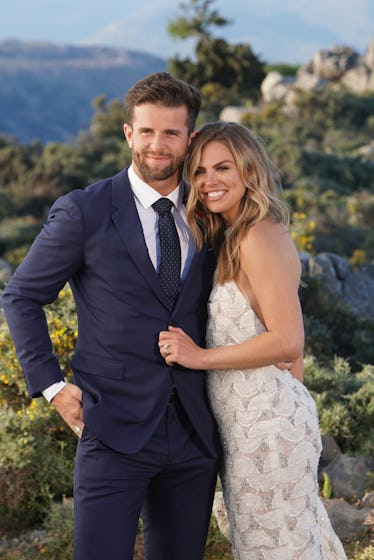 These 11 'Bachelor' Engagements Were Short-Lived But Unforgettable
Mark Bourdillion/Walt Disney Television/Getty Images
The Bachelor franchise is known for its dramatic engagement scenes, which typically involve picturesque vacation destinations, glittery ball gowns, a visit from Neil Lane, and that fabled final rose. These love stories are always fun to watch on TV, but unfortunately, the show doesn't have a great track record for long-term relationship success. The shortest Bachelor engagements were so quick you might have forgotten them — but they'll live on forever on TV screens and in Bachelor lore.
The show promotes a fairytale romance, but once the cameras stop rolling, life gets real... and not always in a good way. A few couples (like Sean and Catherine Lowe and Ryan and Trista Sutter) have beaten the odds and stayed together for the long haul, but many more have ended things after a turbulent few months. Let's take a trip down memory lane to recall the failed engagements of seasons past. Some of these couples met on The Bachelor, some on The Bachelorette, some fell in love in Paradise or on Winter Games — and all walked away with a diamond ring and a promise of forever.
They're no longer together, but true Bachelor fans won't forget their dramatic love sagas... for better or for worse.