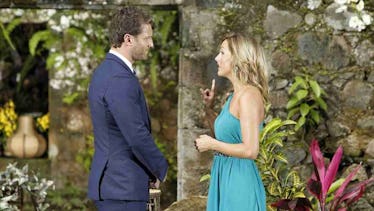 The Most Cringeworthy 'Bachelor' & 'Bachelorette' Breakups Of All Time
ABC
Episodes of The Bachelor and Bachelorette are filled with love and relationships. However, the strong viewership is probably due to the cringeworthy on-air break ups and awkward moments. While most relationships end politely, some end so poorly, I'm sure it makes the producers do a happy dance. Below are eight of the worst Bachelor and Bachelorette breakups of all time. Some will make you laugh while others will make your jaw drop — either way, they are perfectly Bachelor-esque.
1. Robby Hayes and Amanda Stanton
This happened as a result of Bachelor In Paradise, but it was still so brutal it had to be brought up. Robby worked his ass off during the season to win Amanda's heart. However, it was much easier for him to stay focused in Mexico. Once the two left the show, their relationship totally fell apart. Robby took to Twitter to vent his frustrations while the BIP finale was airing, and ended up dragging Amanda hard in the process. His tweet on Sept. 11 said,
While I won't be the one to resort to vicious social media attacks, at the finale, I felt like I was sitting next to a stranger. I'll never understand why there's such a desperate need to present an 'innocent persona' and resort to allowing allegations that are blatantly untrue be said about me by 'the twins' while one sits back and 'unknowingly' watches these malicious attacks continue against me. That's not the behavior or accountability I expect from someone that 'CLAIMS' they care about me and was open to developing an 'ACTUAL' relationship. I've upheld their name both publicly and privately with respect, regardless of the several ongoing THREATS I received. Yes, I'm friendly and personable with many people, but I have respect for myself and even the person I'm casually dating, so I keep my interactions appropriate. I don't use the media or my friends to handle personal relationship misunderstandings, as we just saw them do, and have seen happen many times before.History is repeatedly showing that some people thrive off of using the media and their 'army' to manipulate viewers to place one-sided blame, constantly play the 'victim' and use their friends to try and assassinate one's character. Your story-line is getting OLD; at some point it's just on YOU to stop living a double-life, and at this point, everyone sees through it. God bless.
Amanda didn't take that sitting down and fired back with a photo of Robby allegedly making out with someone who wasn't her. The caption said (dripping with Taylor Swift sass), "Look what you made me do."
The shade was so real.
2. Andi Dorfman and Juan Pablo
Before Nick Viall, there was Juan Pablo. The smoking hot Venezualan had an extremely controversial season chock full of heartbreak. You'll see his name pop up a time or two more within this article.
Andi Dorfman is a sweetheart of the Bachelor franchise, and a lot of the respect she's earned comes from the finale with Juan Pablo.
The realization that Andi Dorfman wasn't actually in love with Juan Pablo (quite the opposite) hit her like a truck after fantasy suites. While pouring her heart out to Juan Pablo, the only thing he could utter back was, "It's OK."
That led Andi to say the line that rang around the world, "I want to die if I have to hear 'it's OK' again." This gutsy realization scored Andi her spot to become The Bachelorette in 2014.
3. Nick Viall and Andi Dorfman
You'll start to see a pattern with the Bachelors and Bachelorettes of this era — there was always some major confrontation that was happening. Depending on when you joined Bachelor nation, you could know Nick Viall in a few different lights — scum of the earth (The Bachelorette), not that bad (Bachelor In Paradise), or WHY ARE YOU HERE (The Bachelor).
Overall, Nick ended his stay in the Bachelor world as a decent human being. However, he made his debut as the villain of Andi's season. For his last villain-y move, Nick decided to use the tactic of public humiliation during After The Final Rose when he asked, "Why did you make love to me if you weren't in love with me?" It was awkward and Andi was (rightfully) PISSED.
4. Olivia Caridi and Ben Higgins
Let me start by saying I have completely changed my opinion of Olivia Caridi since she was on Ben Higgins' season of The Bachelor. This poor woman was vilified to the extreme, and (unfortunately for her) it was SO satisfying when she got kicked off (sorry, Liv).
This is where my love of two-on-one dates first began. Olivia was portrayed terribly — mean, conceited, and so overly confident it was almost laughable. She was on her date with Emily Ferguson (half of everyone's favorite Bachelor twins), and was favorited to get the rose. Emily is extremely kind and gorgeous, but her relationship just didn't progress as fast as others. Olivia was bouncing around and pre-celebrating her rose when a very sunburned Ben broke up with her. The cringeworthy part? Emily and Ben left her on a stormy deserted island. It was cruel, but at the time it was amazing.
5. Jake Pavelka and Vienna Girardi
This break up goes down in history as the most brutal. Jake Pavelka seemed like such a dream when he became The Bachelor — a successful pilot who was handsome and seemed to be the whole package.
His season ended with a twist when he chose Vienna, the "villain" of the group. The two crashed and burned shortly after the finale. Jake and Vienna went on such a smear campaign against each other, ABC decided to have Chris Harrison sit down with the two of them to try and get both sides of the story. The 10-minute video above is only considered Part 1. Needless to say, it was messy and petty.
6. Juan Pablo and Clare
Guess who's back? Juan Pablo is back again. Juan Pablo managed to piss off all of his finalists. Viewers just watched Clare Crawley's journey on Bachelor Winter Games end in tears in heartbreak, but her time with Juan Pablo ended with strong words with a little kick behind them.
To recap: Andi Dorfman peaced out when she realized she didn't have feelings for Juan Pablo and opera singer Charlene also left by her own means when she wasn't making a connection. That left Clare and Nikki Ferrell. Juan Pablo ended up choosing Nikki. He wasn't ready to propose, so he gave her a rose, and it already looked like the whole relationship was crumbling.
Besides being dumped, what got Clare so bothered? Probably that Juan Pablo used a precious moment of alone time to say that he "loved f***ing" her." Hmmmm, romantic. Clare told him off in the most excellent way, solidifying her spot on this list.
7. Jason Mesnick and Melissa Rycroft
This is one of the OG Bachelor breakups from the archives. Jason famously tried to do the ol' switch-a-roo when he realized he picked the wrong woman. Melissa called him a "bastard" on live TV, and he asked out Molly Malaney right after. It was cringeworthy.
It's hard to fault him in the end because he and Molly tied the knot in 2010 and have been together ever since.
8. Emily Maynard and Kalon McMahon
The only saving grace of this whole moment was Emily triumphantly going off on Kalon. Long story short, Kalon referred to Emily's daughter as "baggage" while on the show and was (rightfully) sent packing. You go, Emily. Here's a poor quality video of the whole scene that went down. Side note: Look for a young Arie in the mix.
Breakups are always tough to watch. Somehow, The Bachelor and Bachelorette have created some of the most brutal, cringeworthy, and low-key hilarious moments of all time. The good news? There will be plenty more where those came from.
Check out the entire Gen Why series and other videos on Facebook and the Bustle app across Apple TV, Roku, and Amazon Fire TV.