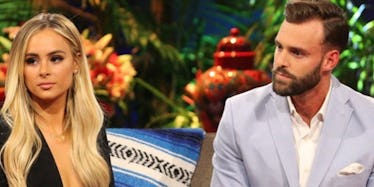 Amanda From 'BIP' Just Pulled A Taylor Swift & Tweeted The Most Savage Thing About Robby
ABC/YouTube
OK, Bachelor in Paradise fans, Season 4 is finally over and so is all the drama. *RECORD SCRATCH* I'm sorry, I take that back... it appears as if the Season 4 drama is not over just yet. That's right, Amanda Stanton and Robby Hayes' tweets after the finale episode have us shaking, and for good reason. You may recall that on Monday night's finale/reunion episode, several couples decided to give it a shot outside of paradise — there was even an engagement — but Amanda and Robby were not one of them. It was revealed on After Paradise with Chris Harrison, though, that Amanda and Robby began dating after taping for the season finished, only to break up shortly after because — according to Amanda – Robby wasn't ready for a relationship.
That's not all, though... no siree. The Ferguson twins chimed in during the reunion to let fans know that Robby had allegedly cheated on Amanda while he was on a business trip in Colorado, a rumor that Robby vehemently denied. After all the on-air drama died down, it seemed like Amanda and Robby were finally in a good place with each other as friends. As usual when it comes to Bachelor nation, though, boy were we wrong. Robby took to his Twitter account later in the evening to clear a few things up. He uploaded a screenshot of a long letter he had written with the caption "Twitter asked me what's happening... Well let me explain..."
Robby's letter reads,
While I won't be the one to resort to vicious social media attacks, at the finale, I felt like I was sitting next to a stranger. I'll never understand why there's such a desperate need to present an 'innocent persona' and resort to allowing allegations that are blatantly untrue be said about me by 'the twins' while one sits back and 'unknowingly' watches these malicious attacks continue against me. That's not the behavior or accountability I expect from someone that 'CLAIMS' they care about me and was open to developing an 'ACTUAL' relationship. I've upheld their name both publicly and privately with respect, regardless of the several ongoing THREATS I received. Yes, I'm friendly and personable with many people, but I have respect for myself and even the person I'm casually dating, so I keep my interactions appropriate. I don't use the media or my friends to handle personal relationship misunderstandings, as we just saw them do, and have seen happen many times before.History is repeatedly showing that some people thrive off of using the media and their 'army' to manipulate viewers to place one-sided blame, constantly play the 'victim' and use their friends to try and assassinate one's character. Your story-line is getting OLD; at some point it's just on YOU to stop living a double-life, and at this point, everyone sees through it. God bless.
Well, Amanda couldn't just let that fly now, could she? That wouldn't be proper Bachelor etiquette. The bachelorette took to Twitter shortly after Robby's letter made its rounds and uploaded the exact picture the twins brought up during the reunion: A picture of Robby *extremely* close with another girl. Even more savagely, Amanda captioned the photo with the newly iconic Taylor Swift lyric "Look what you made me do."
Clearly, Amanda (known hereafter as "The Savage") did not come to play and, if she's anything like Taylor, I think we're about to see her enter her "dark phase."
The only reason we should be skeptical of the picture she uploaded though is because it has no date or time stamp on it, so there's no telling exactly when or where this picture was taken. It should also be said that neither Robby nor the girl's faces can be seen in the picture, so there's no 100% guarantee it is him (or that that's not Amanda's blonde ponytail snugglin' up next to him). I'm not defending either one here, just stating facts... in fact, this is a narrative I wish would end almost as much as the "scallop fingers" plot line.