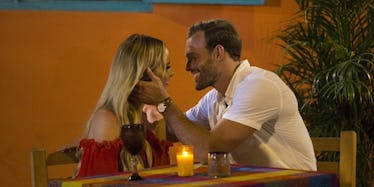 'Bachelor In Paradise' Amanda Reveals She & Robby Have Split, So Spoilers?
ABC/Paul Hebert
What's that sound? Oh, it must be the hearts of Amanda and Robby fans breaking in unison because apparently, the Paradise pair is no longer. Sigh. Amanda and Robby broke up after Bachelor In Paradise, according to Us Weekly. The magazine spoke to Amanda Stanton herself at the End-of-Summer Bachelor Party on Wednesday and she revealed that they are, indeed, not an item anymore.
"Robby and I are not together," Stanton told the mag "I'm not really sure how Robby's handled the situation." Say what? While the Bachelor in Paradise lovebirds(ish) took it pretty slow throughout the season, we thought that maybe there was hope for a proposal or at least exploration of a post-Paradise relationship that extended beyond Labor Day. There have been social media clues and even photos that suggest the two were dating, but alas, she's confirmed it's over now.
Robby and Amanda seemed pretty solid on the show thus far, and although it took some time for her to get comfortable with a kiss, shippers felt like they might go the distance.
Amanda has been a Bachelor Nation fan fave ever since she was fourth place on Ben Higgins' season of The Bachelor. The SoCal mom went on to Bachelor in Paradise for the first time last year, ultimately getting engaged to Josh Murray, but they broke it off by December. Robby and Josh just happen to be good friends, which complicated things a bit at first. "I wasn't interested in him at all and I was off limits to him because he's friends with Josh," she explained further to Us Weekly.
We're sorry to hear it didn't work out, but there's always Taylor and Derek, right? And now that we know who our new Bachelor will be, maybe Amanda is in the running to be the next Bachelorette. You never know.