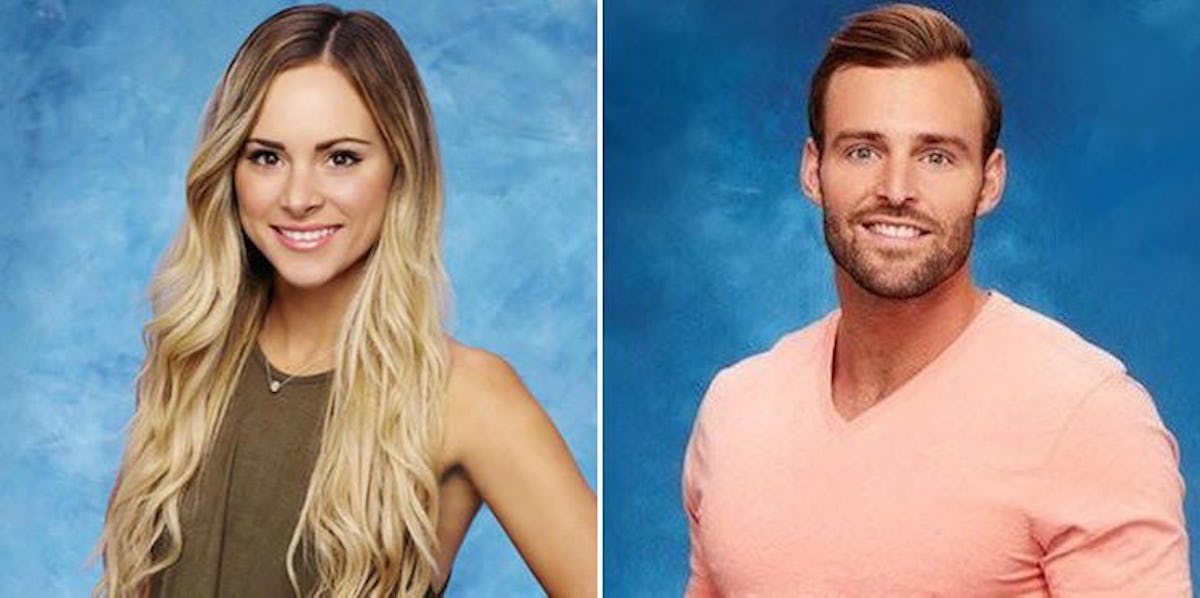 'Bachelor In Paradise' Stars Amanda & Robby Hayes Spark Dating Rumors In New Pics
ABC
Woah, Bachelor fans, I just have one question to ask. Are Bachelor In Paradise stars Amanda Stanton and Robby Hayes dating? Well, a new photo of the couple holding hands might suggest the two are an item.
According to TMZ, the 27-year-old mom of two and 28-year-old model are reportedly "a thing." Elite Daily reached out to Stanton's and Hayes' teams for comment on their rumored relationship following the filming of Bachelor In Paradise, but did not hear back at time of publication.
Stanton made her first appearance as part of the Bachelor franchise on Ben Higgins' season of The Bachelor. The star finished in fourth place and joined the cast of Bachelor In Paradise that following summer. She ended the season engaged to Josh Murray, but the couple called quits on their relationship in December 2016.
Robby Hayes was the runner-up on JoJo Fletcher's season of The Bachelorette in 2016. At the moment, it's currently unclear if Hayes and Stanton fell in love during the filming of Bachelor In Paradise this summer, but fans will be able to watch the drama unfold starting on August 14 and 15.
That's right, ABC will host a two-night premiere to wrap up the summer. The first promo for the upcoming season of Bachelor In Paradise dropped on July 17, during last week's episode of The Bachelorette.
Fans went to Twitter to immediately share their thoughts on the show's teaser. Many Bachelor fans found the promo distasteful following the reported sexual misconduct accusations surrounding contestants Corinne Olympios and DeMario Jackson on the show.
Earlier this summer, Warner Bros. briefly shut down production to conduct an investigation, but released a statement to Elite Daily saying no misconduct was found:
As we previously stated, we recently became aware of allegations regarding an incident on the set of Bachelor in Paradise in Mexico. We take all such allegations seriously. The safety, security and well-being of the cast and crew is our number one concern, and we suspended filming so that the allegations could be investigated immediately and thoroughly. Our internal investigation, conducted with the assistance of an outside law firm, has now been completed. Out of respect for the privacy interests of those involved, we do not intend to release the videotape of the incident. We can say, however, that the tape does not support any charge of misconduct by a cast member. Nor does the tape show, contrary to many press reports, that the safety of any cast member was ever in jeopardy. Production on this season of Bachelor in Paradise will be resuming, and we plan to implement certain changes to the show's policies and procedures to enhance and further ensure the safety and security of all participants.
A rep from ABC also told Elite Daily:
We appreciate the swift and complete investigation by Warner Bros. into allegations of misconduct on the set of Bachelor in Paradise. Given their results, the series will resume production, and will air this summer on ABC.
Olympios' team conducted its own investigation after no misconduct was found by Warner Bros., and later released the following statement:
In light of the overwhelming amount of misinformation that has been spread in the media, I want to clarify a few things.  My intent over the past few weeks has been to learn and understand what happened on June 4.  While I never filed complaints or accusations against anyone associated with Bachelor in Paradise, my team and I felt it was very important to be thorough in getting to the bottom of what had occurred. I felt victimized by the fact that others were judging me through conflicting and unsubstantiated reports, while I myself had no recollection of the events that transpired. My team's investigation into this matter has now been completed to my satisfaction.  I am also happy about the changes that have been made to the production of Bachelor In Paradise.  While I am extremely grateful for the opportunity to have been a participant on The Bachelor, and while I was invited to return to Bachelor In Paradisewhen production resumed, I respectfully made the decision not to return. I understand the media's interest in this story, and I greatly appreciate my fans' concerns for my well-being, but I think it is best if I keep any further thoughts private for now.
DeMario Jackson has been very vocal about his involvement in the Bachelor In Paradise controversy, and sat down with E! News for a three-part interview.
In regards to the impact the allegations have had on his family, Jackson told E! News' Melanie Bromley,
It's hard to see your mom cry every single day… it was very difficult. My grandmother and my aunts… my dad he kept me extremely strong and he kept me grounded and humble, but having your mom cry every day for something that you know you didn't do…
Before the sit-down interview, Jackson released the following statement:
It's unfortunate that my character and family name has been assassinated this past week with false claims and malicious allegations. I will be taking swift and appropriate legal action until my name is cleared and, per the advice of legal counsel, will be seeking all available remedies entitled to me under the laws.
As of now, it's unclear what fans can expect from Bachelor In Paradise this season. If one thing is for sure, it's that there will be plenty of drama. But also, if Stanton and Hayes are really together, then maybe we'll have a bit of love to look forward to, too.