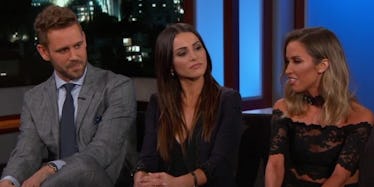 'Bachelor' Nick Viall Roasted By Ex Andi Dorfman For Hooking Up With Contestant
YouTube
Nick Viall is the perfect amount of slutty for low-key awkward televised magic, so buckle up, "Bachelor" fans.
The season 21 star joined Jimmy Kimmel and Bachelor Nation exes Andi Dorfman and Kaitlyn Bristowe — who passed on Nick during seasons 10 and 11 of "The Bachelorette" — to recap the season premiere on Monday night.
On "Jimmy Kimmel: For the Right Reasons," Nick half-heartedly insisted he, Andi and Kaitlyn are "friends… friendly," and the women admitted they'd been in attendance at the wedding of "Bachelor in Paradise" contestants Jade Roper and Tanner Tolbert.
While Jade and Tanner's wedding may initially just seem like two people with absurd names reaching their logical romantic conclusion, it also served as the setting of Nick's one-night stand with current "Bachelor" contestant Liz.
Of reconnecting with his past hookup during the premiere, Nick told viewers,
I recognized her right away. At that point, I think 14 other women had shown up. So she gets out of the limo and I'm like, 'That's Liz.' She walks up and kind of just has this grin, but didn't say anything… So I'm thinking, on the off chance that I am wrong, I didn't want to be like, 'Hey, nice to see you again!' and have her say, 'Nope, not me.' So I was like OK, I'm pretty sure this is Liz, and she just went with the whole, like, 'I'm gonna see if he knows me,' which I was a little caught off guard by. I didn't know what to do!
Amazing.
Andi recalled the evening well, specifically how her luck differed from Nick's that night. She said,
I was the single girl, and they were all, like, up on the bridesmaids and apparently the maid of honor... It was an interesting morning after.
Jimmy shared his top four picks, narrowing it down to Corinne, Rachel, Danielle L. and Vanessa as the ultimate victor.
Nick stayed stone-faced as the host revealed his selections, though Kaitlyn reassured fans,
I think if [contestants] brought their A game and their D cups, they're in.
Trust her. She's been there.
Citations: 'Bachelor' Nick Viall's Exes Put Him in the Hot Seat on 'Jimmy Kimmel Live!' (Entertainment Tonight)