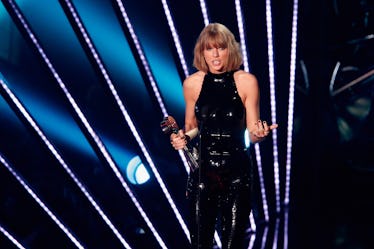 Tweets About Taylor Swift's Cat Lyric From "Gorgeous" Will Make You Laugh So Hard
Rich Polk/Getty Images Entertainment/Getty Images
"Gorgeous" has finally dropped, and it's so much more than fans were expecting. It's super fun and sexy, but also hilarious — in a truly uniquely Swift way. Taylor Swift added a line about her cats in the newest song from Reputation and fans are freaking out. The lyrics about Swift's cats in "Gorgeous" are so, so funny and Twitter can't get enough.
The lyrics in question are,
There's nothing I hate more than what I can't have. Guess I'll just stumble on home to my cats. Alone, unless you wanna come along, oh!
Yes, you heard right. Tay just sang the most epic and relatable line about stumbling home to her cats and I'm here for it. Swift sings these lines towards the end of the song and they come as a pleasant surprise. With sultry lyrics such as these,
You should think about the consequence. Of your magnetic field being a little too strong.
And a chorus as steamy as this...
I can't say anything to your face.
'Cause look at your face
And I'm so furious
At you for making me feel this way
But what can I say?
You're gorgeous
...fans were stoked by Swift's cat reference. Fans are definitely loving Swift's callback to her furry pets, Meredith and Olivia. They may even be relating to it more than gushing over a gorgeous person. Or is that just me... ? Basically, if you've ever seen Zac Efron, you know what this level of gorgeous is.
If Swift didn't already have a lot of stans — she does now.
Swift stumbling home to her cats might be everyone's favorite part of "Gorgeous."
She's even inspired some people to live the cat lady lifestyle.
Meredith and Olivia are Taylor Swift's well-known cats. In case you weren't sure, her cats are named after Meredith Grey from Grey's Anatomy and Olivia Benson from Law & Order: SVU — aka the best shows of all time. Yas. Purely based on TV shows, Swift and I would get along just fine. Taylor, do you like Riverdale? LMK. Anyways, Swift is totally (and rightfully so) obsessed with her cats and now they've made it onto her newest album.
SO CUTE, RIGHT?! Honestly, Swift could put out an album entirely about her cats and I would be OK with it.
I do LOVE "Gorgeous," it's a lot different than I was expecting — which is a good thing. Same Swifty sound, but a little more grown up. Plus, the "Gorgeous" lyrics are so saucy. In the first verse Swift sings,
And I got a boyfriend, he's older than us
He's in the club doing I don't know what
You're so cool it makes me hate you so much
Whiskey on ice, sunset and vine
You ruin my life, why not be in mine?
OKURRR, Tay. I see you. Also, I guarantee you will be singing the chorus for basically the rest of your life.
You make me so happy it turns back to sad, yeah
There's nothing I hate more than what I can't have
You are so gorgeous it makes me so mad
You're gorgeous
I think we can all agree that Swift definitely put out a banger for her third single. Reputation is going to be unforgettable for fans. WHY DOES NOV. 10 HAVE TO BE SO FAR AWAY? Taylor, you've given us three tracks already... how about the rest? I'm feeling a "no" as an answer to that question.
Well, at least we have "Look What You Made Me Do," "...Ready For It?," and now "Gorgeous" to obsess over for a few weeks until the release. Thank you, Taylor, for putting out an amazing song that ends with a drunken stumble home to your cats. You're amazing.
Check out the entire Gen Why series and other videos on Facebook and the Bustle app across Apple TV, Roku, and Amazon Fire TV.