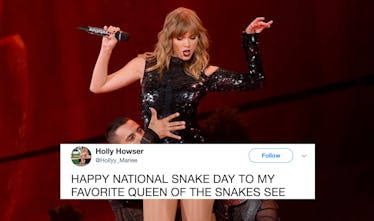 Taylor Swift's Comment About National Snake Day Is So Shady & Fans Are Loving It
Kevin Winter/Getty Images Entertainment/Getty Images
Despite her MTV VMA nomination snub, slithering Taylor Swift is happily writhing her way around the world on her Reputation tour. Her fans are just as loyal and pumped as ever about her epic performances, authentic enthusiasm, and most recently, her tribute to National Snake Day. Oh... you know exactly what she's talking about. Taylor Swift's comment about National Snake Day happened during her July 17 concert in Cleveland, Ohio, on — you guessed it — National Snake Day. Fans know this is a reference to the ongoing beef she has with Kanye West and his wife Kim Kardashian West, which ultimately ended up being a launching pad for the whole Reputation-era theme. During her performance, she paused to shout, "Happy National Snake Day, my favorite day of the year!"
Oh, look what you made her do.
Snakes and serpents have been part of Swift's "vibe" ever since Kardashian first called her a snake on social media back in the day. On July 17, 2016, Kardashian tweeted a series of snake emojis shouting out National Snake Day, presumably directed at Swift.
That's because, at the time, Kanye West had just released his song "Famous" in which he, well, famously raps the lyrics: "I feel like me and Taylor might still have sex / I made that b*tch famous." Swift was not into it and publicly shamed Kanye over the problematic message of the song during her 2016 Grammy acceptance speech.
Soon after, Kardashian released a video of her husband chatting over the "Famous" lyrics with Swift on the phone, in which Swift, according to Kardashian-West and West, seemingly approves the very lyrics she feigned ignorance over. But Swift pushed back, sharing her side of the story in a now-deleted Instagram statement that read:
Where in the video of Kanye telling me he was going to call me 'that bitch' in his song? It doesn't exist because it never happened. You don't get to control someone's emotional response to being called 'that bitch' in front of the entire world. Of course I wanted to like the song. I wanted to believe Kanye when he told me that I would love the song. I wanted us to have a friendly relationship. He promised to play the song for me, but he never did. While I wanted to be supportive of Kanye on the phone call, you cannot 'approve' a song you haven't heard. Being falsely printed as a liar when I was never given the full story or played any part of the song is character assassination. I would very much like to be excluded from this narrative, one that I have never asked to be a part of, since 2009.
That's the drive-by, anyway.
When it came time to start promoting Reputation, the sweet girl-next-door persona was out and the Queen of Snakes was in. As part of her current tour, Swift incorporates massive blow-up serpents and giant video graphics of the slimy animals. All-in-all, she's really made lemonade out of lemons.
Wait a minute... that's a different clapback album.
Anyway. Let's just say that all explains what went down at her concert in Cleveland, which you can watch below.
When Swift shouted out the holiday (???) in concert, fans went crazy for it.
This also isn't the first time Swift's discussed Reputation's reptile theme. According to Time, she brought it up to her audience during one of her earlier shows in May. Reportedly, she told the crowd,
A couple of years ago, someone called me a snake on social media and it caught on. And then a lot of people called me a lot of names on social media. I went through some really low times for a while because of it. I went through some times when I didn't know if I was going to get to do this anymore.
Well, sister. It looks like you're not only doing it, you're thriving in it.
Happy National Snake Day, y'all!
Check out the entire Gen Why series and other videos on Facebook and the Bustle app across Apple TV, Roku, and Amazon Fire TV.