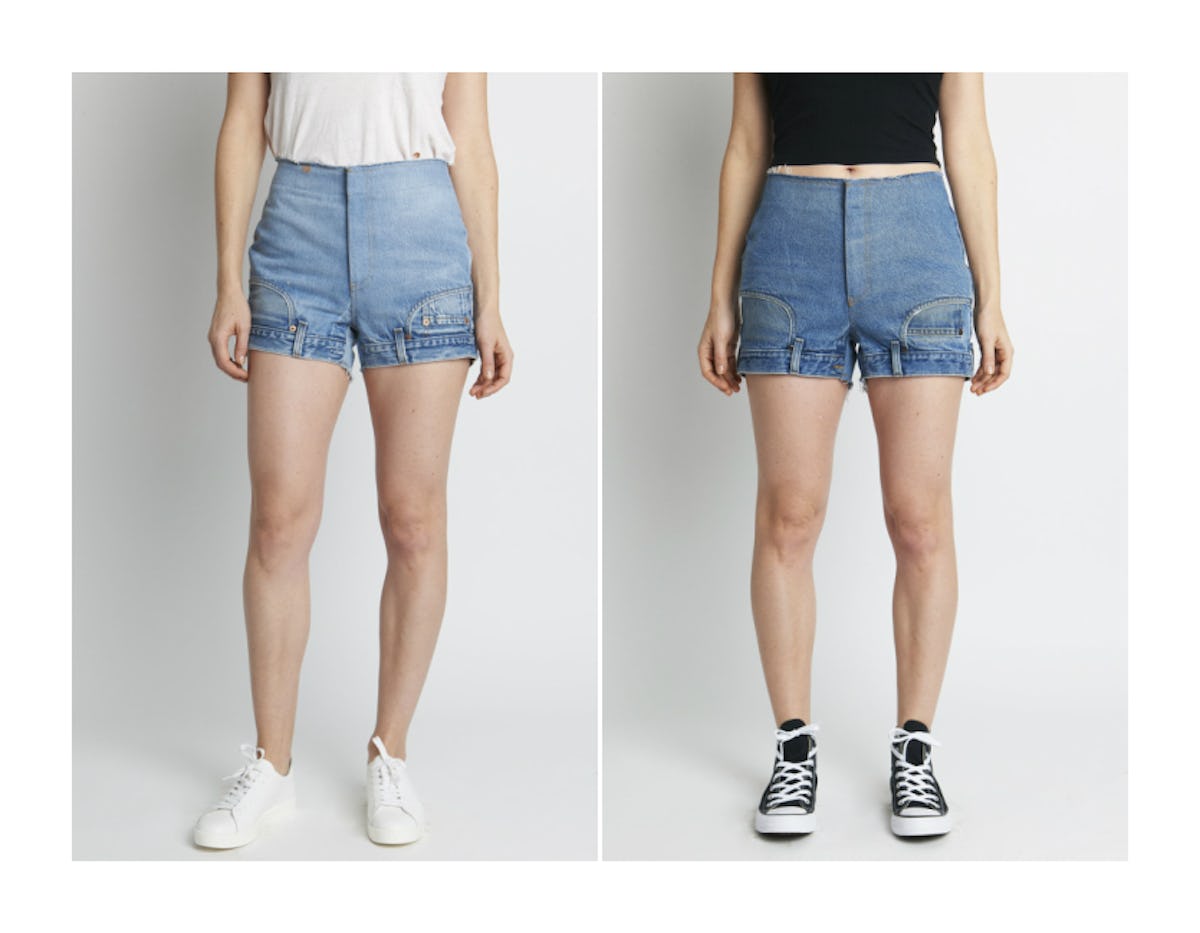 These Upside Down Denim Shorts May Be The Strangest Thing On The Internet
Stranger Things is one of everybody's favorite Netflix series. The show has inspired countless graphic tees and other branded merchandise, but a new fashion item is paying homage to the series in a slightly more subtle manner. The Stranger Things CIE Denim Upside Down shorts are the newest, and perhaps the most creative, souvenir for fans of the mystery show.
It's a challenge to browse the internet without seeing Eleven's face printed on anything and everything. You've probably seen Target's Stranger Things clothing, Steve Harrington ugly Christmas sweaters were a thing, and you can buy find Stranger Things bath bombs! Long story short, there's a lot of merch. But what if you want to be a little bit more subtle about your fandom? You know, so as not to raise suspicions from any secret laboratories. Well, there's a vintage denim brand that hears your plea.
CIE Denim is a vintage clothing store based in New York City and is known for repurposing and reconstructing vintage denim. Weird denim has itself become a trend as of late, denim thong shorts were (somewhat unfortunately) popular for a hot second. Personally, I'm a fan of a classic, slightly distressed, jean short. CIE Denim, however, may be changing my mind.
Notice anything unique about these shorts? You may have to tilt your head slightly to figure it out. They're upside down! And they're named after Nancy Wheeler of Stranger Things!
Everything about the design of the shorts is flipped upside down. The pockets appear inverted but they actually still have the opening at the top, er, bottom? Whatever you want to call it, just know that they're functional back pockets. At almost $400, the shorts come at a steep price point, but I'd say a trip to the Upside Down is priceless. Just kidding, I'll need to save up for these unique jorts.
There's also a darker wash style named for Millie Bobby Brown's character, Eleven, known more familiarly as El.
Here you can see how the pockets work.
CIE Denim doesn't limit these fun designs to shorts — the brand also has a few pairs of long jeans, all still inspired by Stranger Things. These "Will" pants have no pockets at the bum, but instead have a pocket detail by the ankle. These ones don't look to be functional, but, does anything actually work in the Upside Down?
Lucas Sinclair has a style in his name, too. This pair foregoes the traditional waistband placement on the waist and instead moves it down to the ankle seams.
You can really see the inversion of the back pockets on Mike's namesake style.
The size range on the denim isn't ideal — the shorts go from a size 23–29 and the pants are available up to a size 30. The items are limited in quantity though, so if you want to save up and shell out for a pair, you may want to act fast.
Unsurprisingly, Twitter had a whole lot of feelings about these jeans.
Some people couldn't decide: "Is this creative or insane?"
This fashionista is a fan, tweeting, "I want the upside down denim shorts." Smart girl.
Same, girl.
One user is very much into the style: "Upside down jean shorts and pants for $385.00? Sold!"
"I want small brands to make money & succeed but also if you're selling a pair of denim shorts for $400 just because you sewed them to look upside down maybe you're doing it wrong," wrote one critic. Honestly, fair, most people can't shell out that much money for a pair of shorts. Maybe the trend will trickle down to some more affordable stores?