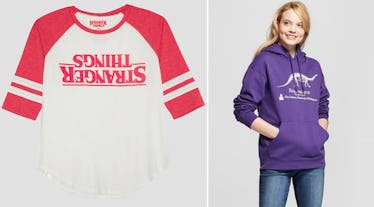 'Stranger Things' Merch Is Coming To Target & It Will Turn Your Wardrobe Upside Down
Target
Ugh. The suspense is killing me. Netflix are taking their sweet time on announcing when Eleven, Dustin, Mike, and the rest of the Hawkins crew will return to our screens, and I don't know how much patience I have left. Thankfully, Target have announced the release of new Stranger Things merch, which will hopefully quelm my separation anxiety, at least for a little while. And thankfully, it's actually cool.
It was announced in December that Stranger Things would, indeed, return for a third season, and I think every single human with a Netflix subscription rejoiced. I don't know a single person — my dad included — who doesn't love the show, as it's the perfect mix of thrill, romance, drama, comedy, suspense, and action. Who would've thought one of the most popular series of 2017 would be headed up by a cast of pre-teens? They're going to save us all.
Annoyingly, Netflix have remained tight-lipped on when exactly the show will be back, but the second season aired just in time for Halloween last year, so I'm hoping for a similar timeline. Regardless, I now have Target's new Stranger Things merch to look forward to, because if I can't spend my nights watching the show I might as well spend my days repping it. And while some television show merch is straight up ugly, the pieces in this collection are actually super wearable and cool. If only an Eggo purse had been produced….
First up is probably the most iconic piece of clothing from Stranger Things, save Eleven's pink dress from season one. Dustin's purple Science Museum of Minnesota Dinosaur hoodie from season two is being mass-produced, which makes sense since the museum itself sold out of their hoodies after the season aired. It's purple, it's nerdy, it's comfy, and it's so normcore it's cool. 2018 Halloween costume, I've found you.
My next personal fave from the collection is a long sleeve shirt that is decidedly streetwear in vibe. All white with crisp red lettering reading "Stranger Things" and "It only gets stranger," it's coolness lies in its simplicity. (This plus leggings plus Ugg boots sounds like my lazy day dressing dream.)
To honor the '80s, the decade in which the season is set, the collection also offers a red and white ringer tee that has a decidedly vintage feel to it. Stranger Things is emblazoned on the front, though it's been flipped in order to reference The Upside down — the dark, parallel universe in which the evil Demogorgons dwell — from the show.
And last but certainly not least is a slightly more subtle tee that people who haven't watched the show (crazy people!) might now understand. A simple gray tee reading "Welcome to Hawkins" in light grey ("Hawkins" is also upside down) it's an homage to the Indiana town in which the series takes place.
Target released an initial Stranger Things collection after season two aired but to be honest, this one is so much better. It's not gimmicky or cheesy and looks comfy AF, and every single piece within it could be worn with myriad bottoms. (Jeans and '80s style mini skirts would be my picks.)
The collection drops in late February (exact date TBD) and will be available in select Target stores and online. Prices range from $12.99 to $24.99, so everything is one hundred percent affordable. In other words, you can buy every piece and not go broke.
Until then, enjoy your Eggos, brush up on season one (and two, let's be real), and get nostalgic AF for the '70s. I'll be right there with you,.