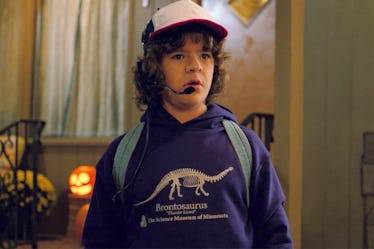 Dustin's Dinosaur Hoodie From 'Stranger Things' Is The Hottest Gift Of The Holidays
Courtesy of Netflix
In what is probably my favorite piece of fashion news this week, the coolest new must-have item seems to be a Brontosaurus sweatshirt. Yes, you read that right: Dustin's dinosaur hoodie from Stranger Things is breaking the internet, and esteemed paleontologist Ross Geller is most certainly deeming this one of the best weeks of his life.
Originally sold at the non-profit Science Museum of Minnesota in the 1980's, the hoodie looks like your average wearable souvenir; it features the skeleton of a dinosaur, the identifier "Brontosaurus," and, my favorite part, the descriptor "Thunder Lizard." (THUNDER. LIZARD. This is why I need one.)
When the museum relaunched the hoodie on their website, a reported 80,000 people mobbed the museum's website to try and get their hands on their own prehistoric hoodie. They ultimately crashed the site and wiped out all available inventory. The museum restocked soon after; allegedly, they have grossed approximately $600,000 in proceeds thanks to their unintentional rise as a purveyor of pop-culture fashion. Right now, the museum has a limited quality of Dustin sweatshirts available, from $15-36, so don't delay.
In an interview with High Snobiety, Kim Ramsden, the museum's public relations director, said, "For us, we're just relishing this opportunity to be connected to the popular show, especially one that has characters that are interested in science. As a nonprofit, all of the proceeds will go back to our mission of science and education and inspiring other young kids like Dustin on the show and his friends to have an interest in science."
Science rules. At one point in high school, I wanted to be a forensic scientist until I realized I didn't have a mathematically-inclined bone in my body. I'm also not fond of human or animal remains. So for me, this sweatshirt represents a meeting of my forgotten dream job and my current and actual dream job.
While this specific hoodie's rise in popularity is absolutely because of its appearance on Stranger Things, I can't help but to wonder if the current fashion climate helped it gain momentum. It's no secret that streetwear has had a major resurgence in both the high and low markets as of late; you only need to look to brands like Off-White and Balenciaga, who have both sent iterations of hoodies down their runways, to see that the item is no longer reserved for athletics or days of lazy dressing. In fact, my insanely stylish ex-coworker often wore hoodies to work and styled them with pleated skirts and red snakeskin booties, or crisp culottes and intricate sandals. She looked damn cool.
Commonplace logos that were once deemed nerdy or uncool (like dinos) have also found a place among the closets of some of the best-dressed people in the world, thanks to their high fashion upgrades by brands like Vetements and Moschino. (Believe me, DHL and McDonald's were NOT cool things to sport on your tees five years ago. But I do love that Big Macs are "in"...)
And finally, "dad style" is a thing now. People are actually choosing to wear retro rubbery sneakers and fanny packs and '80s sweaters, and publications like GQ are calling it cool. What a time to be alive!
My point in all of this is that Dustin's hoodie actually fits in pretty perfectly to what's going on in fashion right now. Stranger Things takes place in the 1980's, so I guess it kind of makes sense. Is Dustin the most unlikely fashion icon of all time? Probably. Will I be slaying the streets of New York in my own sweatshirt emblazoned with a gigantic quadruped sauropod dinosaur in the coming months? Oh, hail yes.