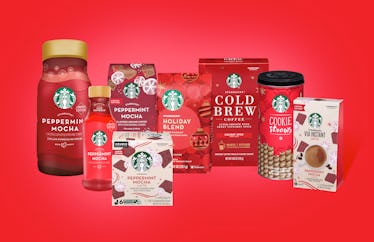 Starbucks Is Selling A New Holiday Spice Cold Brew You Can Make At Home
Courtesy of Starbucks
Don't you ever just wish you could make lattes as good as Starbucks in your own home? I do. Although you may never be able to completely capture the taste of a handmade drink from Starbucks, you can get very, very close with Starbucks' at-home holiday 2019 coffee collection. There are plenty of your fave flavors sold for use in your home, and before you know it, maybe you'll feel like a pro barista.
If you ask me, Starbucks always has its holiday game on point. There are plenty of products to please everyone in your circle. But, TBH, I always forget about buying Starbucks products to bring home. I usually end up inside a Starbucks. Which is totally fine, but I'm definitely going to change that a little this year, for the love of Cookie Straws alone. With these holiday products, you can brew your own seasonal coffees when you can't make it to a Starbucks.
Wondering what's available from Starbucks this year? The brand has quite the bounty. Starbucks announced its list of 2019 holiday products this year via an official press release on Oct. 17. There is, first and foremost, an all-new product: the Starbucks Holiday Spice Cold Brew Pitcher Packs. That's right, you can make Holiday Spice Cold Brew at home... and I am going to buy an endless supply.
Other products in the collection are the Starbucks Holiday Blend K-Cup Packs, Starbucks Holiday Blend Ground Coffee, Starbucks Peppermint Mocha Flavored Ground Coffee, Starbucks Peppermint Mocha Latte K-Cup Packs, and Starbucks VIA Instant Peppermint Mocha Latte. And, you don't even have to wait for December to hit to get into the holiday spirit, because you can currently find the at-home holiday 2019 coffee collection rolling out in grocery stores nationwide.
Starbucks' new product, the Holiday Spice Cold Brew Pitcher Packs, are described as "a holiday twist on our classic Cold Brew... [these] deliver flavor via a unique sachet with sweet cinnamon spice for a delightful holiday cup." One box contains enough to make one pitcher and these will sell for a suggested retail price (SRP) of $9.99. If you ask me, that isn't too shabby for an entire pitcher of cold brew.
And, of course, it would not be the holidays from Starbucks if the company did not bring back its holiday blend in K-Cups and ground coffee options. If you've never had the Starbucks Holiday Blend before, the company describes it as "medium body and mild acidity coffee…[with] flavorful and sweet maple notes to create a smooth and balanced finish." You can get the 10-ounce ground coffee for a SRP of $9.99, while the K-Cup Pack varies by count, starting at $9.99 for a 10-count box.
Also available are the Starbucks Peppermint Mocha flavored ground coffee, K-Cups, and the Starbucks VIA Instant Latte. All three of these are the various ways you can enjoy Starbucks Peppermint Mocha and its "rich chocolaty notes" and "minty joy" at home. The ground coffee is going for $9.99 for an 11-ounce bag, while the K-Cups are $9.99 for a pack of six or $12.99 for a pack of nine.
The VIA Instant Latte version is a "just add water" option, and these will be available in grocery stores for $7.99 for a pack of five.
Starbucks is also including instant Peppermint Mocha options — the Starbucks Iced Espresso Peppermint Mocha in a 14-ounce, single-serve bottle that will run for $2.79, and the Starbucks Peppermint Mocha Iced Espresso Classic, which "combines bold espresso and milk with the cheery flavors of chocolate and peppermint." This multi-serve option has 40 ounces of the stuff and will sell for a SRP of $4.99.
But, here comes my absolute fave, aside from the new Holiday Spice Cold Brew, the Starbucks Holiday Cookie Straws. These are totally the perfect way to make any cup of coffee or latte more special than it already is. These "toasted rolled wafer cookie[s]" with their "dark chocolatey sweetness" will come in a 20-count package of individually wrapped cookie straws and sell for the suggested price of $6.99.
If that isn't enough good news for you, I don't know what is. If you didn't catch the Wednesday, Sept. 25 announcement of the Starbucks Holiday 2019 Tumblers and Cold Cups that will soon appear in stores, you may want to consider grabbing one of those before they're gone, too. You can drink your fave Starbucks Holiday flavors out of a sparkly new holiday cup and feel #pampered even if you haven't left the house.