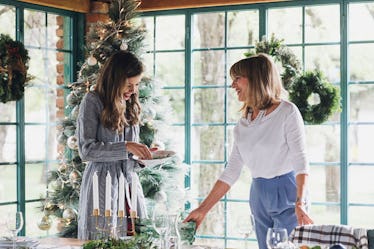 Why The Best Part About Being Home For The Holidays Is Spending Time With Mom
Home is where your mom is, and during the holidays, you feel extra grateful to be heading back to town. Your car is all packed and loaded up with presents for your friends and family. There are songs like "It's the Most Wonderful Time of the Year" and "Rockin' Around the Christmas Tree" playing on the radio. You're looking forward to baking cookies and drinking endless cups of hot chocolate. But, spending time with mom over the holidays is what truly makes this season so merry and bright.
Don't get me wrong: You love hanging out with your siblings and going to the ice skating rink or a cute coffee shop with them. Together, you always scope out the presents that have already been wrapped and placed underneath the tree, and try and guess what they could be. At the end of the day, though, you're most excited to snuggle up with your mom.
She started so many holiday traditions with you, from picking out the tree at a local farm to taking an entire afternoon to run errands at the mall. As you get older, you feel more and more attached to those moments and memories. Spending time with your mom will always make this season feel merry and bright for these seven reasons. *Cue the happiest of tears.*