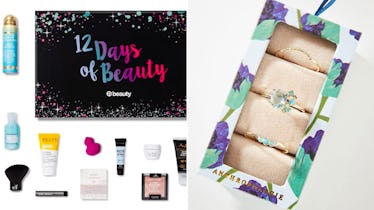 10 Cool Gifts To Buy When You're Broke AF But Want A Big Bang For Your Little Buck
Target/Anthropologie
Adulting has taught you many things about life, including that it can be expensive AF. Every month, you write out a rent check and pay your bills. You go grocery shopping on the regular, and occasionally need to fill up your gas tank on the way to work. Not to mention, stopping for coffee is a must. And as much as you try to use coupons or hit the big sales around the holidays, you still find that your gifts are breaking the bank. Ugh, what gives? Lucky for you, there are actually plenty of cool gifts to buy when you're broke. It's time that you got a big bang for your little buck.
Here's the situation: You always spend a ton of money on your friends and family this time of the year, because they deserve the best gifts. It doesn't feel quite right handing them a gift card or festive mug, when there should be a couple of plane tickets to a private island in their stocking — you know? In the past, you've tried to get as creative as possible, skipping out on the big products for something homemade. (You can never go wrong with a gift made with your own two hands!)
But, this year, you simply want more bang for your buck. These 10 gifts will be exactly what you're looking for. Start shopping, and let your credit card take a deep breath, too.