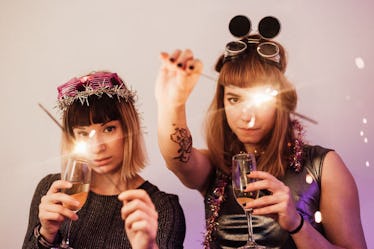 7 Free Things To Do This New Year's Eve For A Midnight You'll Never Forget
Get your gold dresses and sparklers ready — it's almost New Year's Eve. Picture this: You're watching the ball drop in the middle of Times Square, and remembering all of the amazing memories you made last year. Your favorite artists perform their hits from the radio, and you catch some confetti to take home. This year, you want things to be bigger and better than ever before. But, unfortunately, your bank account has some other plans. Don't worry, because there are plenty of free things to do on New Year's Eve 2018 for a midnight you'll never forget.
The key is to tap into your creativity and imagination, and think about how you want to start the new year. Right now, the resolutions in your head may have something to do with self-care or finding balance in your life. So, maybe you should have a spa night with your besties. Ringing in a time of change and renewal with facials, vanilla-scented candles, and sparkly nail polish? Sign me up!
In addition, you're hoping to travel more in the next few months and follow your wanderlust to exciting new places. Taking a lavish trip for New Year's Eve is a no-go, but you could plan your next adventure, along with one of these 10 things that are free and meant for a midnight you'll never forget.