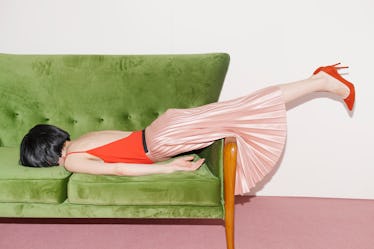 7 Women Reveal The Most Cringe-Worthy Thanksgiving Moments They Had With Their Partner's Family
With no presents to distract you, nor fireworks to watch (in silence), Thanksgiving can be a time for a lot of family awkwardness. You're in a room eating, a football game playing in the background, the one "radical" sibling informing everyone about the history of genocide and colonialism in America (c'est moi). Of course, at it's best, Turkey Day is a time to tell your loved ones that you care about them and to cultivate gratitude for all that you have.
Spending Thanksgiving with your partner's family can be a beautiful next step in your relationship. Or it can be really, really weird. Apart from fun fall outfits and endless plates of food, for a lot of people, Thanksgiving is a time spent with family, so getting invited to your boo's holiday meal is a big deal. The first (or first couple) Thanksgivings you share with your partner may be a little awkward. You're meeting a lot of people, you're trying to make a good impression, and you're trying to enjoy your time with bae.
If you've had a seamless transition into your partner's family holidays, go you! For the many of us who have racked up awkward Thanksgivings longer than a CVS receipt — swapping tales can make the embarrassment creep away.
I spoke with seven women about their most cringe-worthy moments during Thanksgiving at bae's, and honestly, we're still shook.