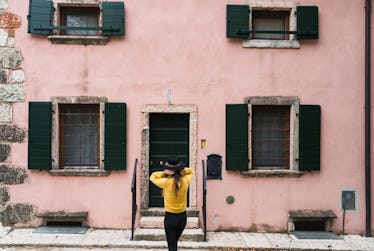 30 Clever Captions For Your Thanksgiving Outfit Pics, Because You're A Cutie Pie
'Tis the season to wear your heart on your sleeve. Yes, you're attending turkey dinners, showing your family and friends all the love, and serving the guests some great looks. You know, those brand new booties with that maroon dress? Even from the other side of the screen, I know you're radiating the best version of yourself. You're a cutie pie, inside and out — it's as simple as that. That means you need some Instagram captions for your Thanksgiving outfit pics.
Autumn has already called for a few photo shoots with your besties, and you showcased your new flannel on the 'Gram. You tracked down the best filters and presets for Lightroom months ago, and have been using them to give your snaps the perfect "golden glow." But, gathering around the table with your cousins and cool aunt requires another post. You want to give the people in your life some of the spotlight, and use the hashtag #sweaterweather all over your feed. Not to mention, there are outfits that have yet to be seen by the world. *Cue the gasps.*
You may have ideas for your #content already, or are in need of some inspiration. Let me get your imagination going: Assuming the weather is nice, you may want to run outside and toss some leaves in the air. Holding up a bowl of mashed potatoes is never out of the question, or laughing for a not-so-candid shot that's corny like that casserole.
You're bound to show up to the party with a Pumpkin Spice Latte in hand. Use it as a prop and let the camera do the rest of the work. Maybe you want to keep it simple and just smile for your followers and friends at home. At the end of the day, being yourself is always the way to go. Just pick out one these 30 captions for Thanksgiving outfits that will complement your look, and then rake in the likes. (Easy peasy, lemon meringue pie, squeeze-y.)
1. "It's all about sweater weather."
2. "Hello gourd-geous."
3. "Just the cutest pumpkin in the patch."
4. "You have been served a look."
5. "Talk foodie to me."
6. "I woke up like this." —Beyoncé, "Flawless"
7. "Keep calm and put your velvet pants on."
8. "I love this outfit a pumpkin spice latte."
9. "Chic happens."
10. "Espresso yourself."
11. "Sweet as pumpkin pie."
12. "Give 'em pumpkin to talk about."
13. "Life isn't perfect, but your outfit can be."
14. "Break out the sweaters and the bowls of mashed potatoes."
15. "Sweater weather, crunchy leaves, and pumpkin spice everything."
16. "Giving thanks and wearing my heart on my sleeve."
17. "All things are possible with coffee and a cute outfit."
18. "Stress doesn't go with my outfit."
19. "Dressing well is a form of good manners." — Tom Ford
20. "There's always lipstick." — Audrey Hepburn
21. "Let's do what we love and do a lot of it." — Marc Jacobs
22. "Life is a party, dress like it." — Audrey Hepburn
23. "Be happy in the moment, that's enough. Each moment is all we need, not more." — Mother Teresa
24. "Shoes are like pumpkin pie. There's always room for more."
25. "A smile is the best makeup a girl can wear." — Marilyn Monroe
26. "So very thankful that these shoes were on sale."
27. "*Changes outfit 27 times.* *Goes with first option.*"
28. "Love your fabulous self."
29. "Just stopping into a turkey dinner before the Black Friday sales."
30. "There's always something to be thankful for. Like a cute outfit."
Before you go, let me give you one piece of advice: Picking out a caption for social media and picking out an outfit for Turkey Day doesn't have to be hard. Sure, you have a few new pieces you would love to wear. But, on the day of, you always start tearing through your closet, leaving a mess of clothes on the floor.
Girl, go with your gut! That first outfit was #fire, and the person wearing it is pretty great, too (if I do say so myself). She's as sweet as pumpkin pie. OK, enough of the cheesiness, right? Pass the mashed potatoes, please!