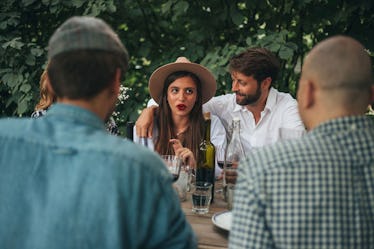 4 Signs You Should Bring Your SO Home For Thanksgiving, Because It's Much Ado About Stuffing
Along with making it official, uttering those three little words for the first time, and moving in together, meeting the parents can be undoubtedly one of the major milestones in a relationship. In a serious relationship, it's essentially inevitable — the only question is when to make that happen. Should you bring your SO home for Thanksgiving? For some couples, it makes total sense. After all, your whole family is gathered in one place and they're typically in a good mood, thus making them especially welcoming. Deciding whether it's the right time to have them spend the holiday with you and your fam, however, depends on a few different factors.
Of course, there's your gut instinct to consider. Does it feel like the right time? Are you genuinely excited to introduce bae to all of your eccentric relatives, or do you still have some insecurities that you'll be judged? And then, of course, there are practical elements to take into account. If bringing your SO home for Thanksgiving is going to be a financial burden on either or both of you due to travel costs, then it may ultimately not be worth the extra stress.
Still, having your partner spend Turkey Day with you and your family obviously comes with plenty of perks. Namely, you get to celebrate the holiday with all of your favorites in one place — and what could be better than that? Fortunately, there are ways to assess whether it's a good idea. According to Dr. Gary Brown, a prominent relationship expert in Los Angeles, here are some signs that suggest it's the right time to bring your boo home to meet the family.