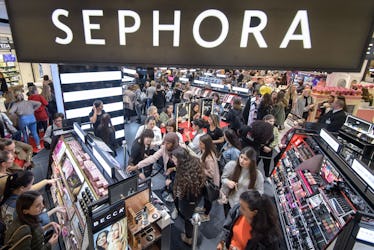 Here's How To Get A Sneak Peek At Sephora's Black Friday 2018 Sale — Spoiler Alert: It's Gonna Be Great
Thomas Lohnes/Getty Images Entertainment/Getty Images
Since I always end up spending more than I intend to when Black Friday sales roll around, this year I'm making a conscious effort to plan out all my buys in advance. When it comes to clothes and accessories, I'm window-shopping stores and scrolling websites to bookmark my favorite pieces; when it comes to beauty and skincare products, I'm utilizing Sephora's Black Friday 2018 preview, available exclusively on the store's app. As much as I'd like to pick up all the foundations and face masks my makeup collection can handle, I've got to be smart about my shopping, and getting to see some of the deals in advance will make selecting my picks that much easier — especially since so many great items will be available for just $15.
If you don't already have the Sephora app installed on your phone, I will give you a moment now to download it. Take your time. Did you get it? Perfect, now let's get down to business. On Nov. 15, Sephora app users will get access to an exclusive sneak peek at the store's massive Black Friday sale; in particular, they'll be able to see the $15 & Under options, which will offer the ultimate bang for your buck.
Sephora generously blesses us with beauty deals almost all year — for example, as we approach Black Friday, you can right now take advantage of the 2018 Beauty Insider Holiday Sale — a $15 price point is still pretty major. Currently, a lot of the items on the site priced this low are mini-sized products or holiday beauty ornaments: the Too Faced Better Than Sex Mascara Mini Ornament ($12, sephora.com) is the best of both worlds, while the BITE Beauty Sweet Treats Agave Lip Care Set ($12, sephora.com) is a major steal for lippie lovers, as it comes with an Agave Sugar Lip Scrub packette, a mini Agave Lip Balm, and a mini Agave Lip Mask.
Of course, Sephora's own brand, Sephora Collection, arguably offer some of the best priced-under-$15 products on the site, including picks like the Enchanted Sky Eyeshadow Palette ($10, sephora.com) with eight dreamy matte and shimmery shades, as well as the Wish Upon A Star Mini Brush Set ($15, sephora.com) featuring four small eyeshadow brushes.
In addition to the Black Friday $15 & Under deals, Sephora is currently stocked with tons of incredible holiday gift sets that feature great products and even better savings. The Sol De Janeiro Bum Bum Carnaval Magic Set ($38, sephora.com) is at the top of my list when it comes to gifting a serious self-care treat, as it's packed with the brand's best-selling body favorites, including two jars of their famous Brazilian Bum Bum Cream, the Brazilian Crush Body Fragrance Mist, and the Brazilian Kiss Cupuaçu Lip Butter. It's not $15, but it is a $55 value, so the savings are still very, very real.
How it feels knowing Sephora's sneak peek will prepare me to shop responsibly and not spend all my money on makeup I don't need:
Didn't download the app earlier like I asked you to? OK, I mean, I guess you can just text "APP" to 63485 instead to download now from either the App Store or Google Play. Same difference. Either way, you'll get access to the sale sneak peek preview on Nov. 15, so as long as you download before then, you're good to go!