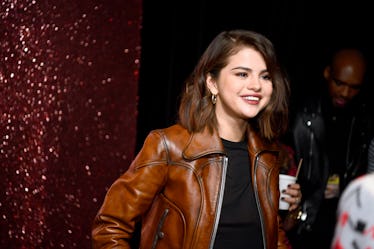 Selena Gomez Dropped Her "Wolves" Music Video & It's Honestly Everything
Dave Kotinsky/Getty Images Entertainment/Getty Images
Wow, what a great day to be alive. Selena Gomez's "Wolves" music video is here and it's everything. "Wolves" is Gomez's latest single that she collaborated on with DJ and producer Marshmello. The rhythm is contagious and the lyrics are so deep and romantic. The star is planning on performing the song for the first time at the AMAs, so be sure to check it out.
But first, let's talk about this music video. Of course, Gomez has a super cool back story about the creation of "Wolves." The singer said she first heard a rough cut of the song when one of her writers brought it to her in Japan. She told Beats 1 radio host Zane Lowe,
This was a song that I heard in Japan for the first time and I was talking to Andrew Watt who is one of the writers [who I] worked with for years and he actually just played a rough version and I thought it was really beautiful and he sent it to Marshmello and we ended up talking... we created a really cool tone and a story with it, and the song is very beautiful and personal and the lyrics just have, you know, a whole story of its own... weirdly at the same time I was working on it in Japan and going through stuff too, so it's mirrored everything.
"It's mirrored everything" is an extremely vague statement from the usually open-book Gomez. Mentioning that the song lyrics are "personal" could mean a variety of different things. Did she first hear it when things with The Weeknd were hot and heavy or are they about something much deeper? I guess that is up for fan interpretation.
The song is super dreamy, and the lyrics will make you want to run like a wolf to the person you love. The chorus reads,
I've been running through the jungle
I've been running with the wolves
to get to you, to get to you
I've been down the darkest alleys
Saw the dark side of the moon
to get to you, to get to you
I've looked for love in every stranger
Took too much to ease the anger
all for you, yea all for you
I've been running through the jungle
I've been crying with the wolves
to get to you, oh to get to you
Now get ready to watch on Apple Music and be amazed:
It's been one hell of a roller coaster keeping up with Gomez's music this past summer. At first, fans linked "Bad Liar" and "Fetish" to her relationship with The Weeknd. Their love seemed steamy and they received an outpouring of support from people. Which is why their break up at the end of October came as a huge surprise.
One insider from People claimed it was the attention and travel both of their independent careers demanded that caused the drama. The unnamed source said,
She [Selena] and Abel have been going back and forth for a few months about their relationship. It's been hard with him being on tour and her shooting in New York. That wasn't easy on them.
Apparently, the two had been on the rocks for some time. One insider, who claims the breakup has nothing to do with Justin Bieber, told the magazine,
It's been hard for them to come to the realization that this is the direction things were heading, but it's been hard for months.
It's specific that the source mentioned Bieber, because Gomez has reportedly been spending all her free time with the "What Do You Mean" singer. Even though nothing has been confirmed, the two are reportedly back on their way to becoming Jelena.
As for Gomez, men will come and go, but her musical empire is forever. Congrats on the release of the "Wolves" music video, it was amazing. Keep doing you, Sel.
Check out the entire Gen Why series and other videos on Facebook and the Bustle app across Apple TV, Roku, and Amazon Fire TV.