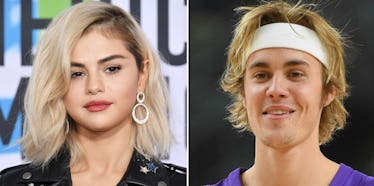 This Detail On Selena Gomez's Instagram Says A Lot About Her Feelings For Justin Bieber
Neilson Barnard/Jayne Kamin-Oncea/Getty Images
Selena Gomez is reportedly taking a break from the spotlight again to focus on reconnecting with her family and getting some space from Justin Bieber. This space is something they both agreed on and they're very much still together, sources say. They had been getting in a bunch of little fights that led to one big one, so sources say they decided to spend some time apart to recalibrate. It makes sense and is a healthy move. But now, Selena Gomez doesn't follow Justin Bieber on Instagram, so what could that mean for their relationship?
It could mean a lot of things, and not all of the things have to do with Justin Bieber. But before we get into that, who does Selena Gomez follow on Instagram? Her profile says she's following 36 accounts, but 24 of those are brands like Pantene, UNICEF, Coach, Apple Music, TIME, the Revival Tour (the Instagram account for the last tour she went on), and Interscope Records (her record label). She still follows several Selena Gomez fan accounts, but some of the only people out of her famous friends she still follows are Taylor Swift, Amy Schumer, Francia Raisa, Stuart Vevers (creative director of Coach), Jessica Alba, Justin Tranter, Julia Michaels, stylist Kate Young, and Nicolas Ghesquière (creative director of Louis Vuitton).
Gomez is still the most-followed person on Instagram, but she only follows 36 accounts herself.
It's not clear whether or not Gomez was following Bieber on Instagram before this unfollowing spree, but seeing as she posted a photo of him on her profile to celebrate his birthday, it's safe to assume she probably was. She also doesn't follow her mother, Mandy Teefey. This isn't the first time Gomez has made a big change to Instagram, though. Back in December of 2017, Selena Gomez made her Instagram private and it made fans worried. The decision to switch her account to private seemingly came from a Billboard interview that she felt misinterpreted her words. She posted a screenshot of one part of the article on her Instagram story and wrote a caption on top of it that read,
Never will I let another human guess my words ever again. Or invite them in my home. That is so hurtful. The most 'ridiculous' part of that is no one knowing my heart when I say things.
The screenshot she posted showed a clip from the article that talks about a teddy bear Gomez had in her home.
She deleted the picture from her story not long after posting it, but screenshots never die! It's impossible for us to know whether or not this was the exact reasoning behind Gomez making her Instagram private as Gomez has never confirmed or denied it herself, but it would make sense if it was. What I can make of Gomez's current list of people she's following is that she's actively trying to disconnect from public life for the time being. She's home in Texas visiting her family and focusing on self-care, according to Entertainment Tonight, and will reportedly be taking this time to try and repair her relationship with her mother. A source told Entertainment Tonight,
Selena is very delicate; her 'comeback' to the spotlight has been tough — especially with the interest in her personal life with Justin and her mother. She is taking time to herself. This is not the first time she has done this.
They added,
She wants to repair her relationship with her mother, that's a priority for her, too. She needs to figure out how to live the life she wants in the spotlight — if that's even possible.
This could mean a variety of things for her and Bieber's relationship. She could've unfollowed him so she can truly get some space to recalibrate and reaffirm her emotional needs for the relationship. Trying to figure out your feelings for someone, whether good or bad, can get muddled if you're constantly seeing them pop up in your timeline. It could mean she doesn't put a lot of weight on social media and therefore doesn't feel it's a big deal if she follows him or not. (Fair.) Based on her history with social media, I'd say that tracks. It could also mean she's upset with him and needs physical space — both in person and on the internet. It's all speculation at this point, but sources say they're definitely still together, so we don't need to worry about the fate of Jelena just yet.