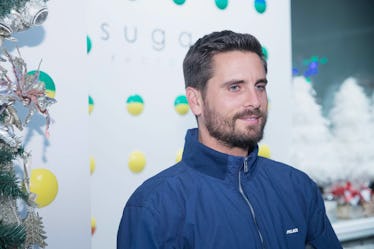 Sorry Sofia Richie, Scott Disick Is Reportedly Using This Dating App
Mat Hayward/Getty Images Entertainment/Getty Images
Scott Disick makes me feel weird. I know I'm not the only one who feels this way. One minute he looks like a great guy who's stepping up and taking care of his kids, the next minute he's running around with girls who are almost (quite literally) half his age. There's been one more point added to the "weirdo" side of the scoreboard — Scott Disick's dating app profile. It was discovered and put on blast by someone Disick knows pretty well... Kylie Jenner's ex, Tyga.
I may have started off a little harsh. On Keeping Up With The Kardashians, I adore Disick. He's so funny and truly DGAF when it comes to most things. Plus, Todd Kraines is now an iconic figure in reality television. Personally, I'm always secretly rooting for Skort (aka Scott and Kourtney), but it seems like it's almost time to give up hope. Scotty, honey, what is you doing?
The Cannes Revenge Tour really put Disick in some bad light. He was linked to a plethora of different women within seven days. Justin Bieber's ex, Chantel Jeffries, Bella Thorne, blogger Maggie Petrova, one or two other mystery women, and Sofia Richie were all caught in the mix.
Since then, Disick has chilled out (slightly), and has reportedly been dating Sofia Richie. Even though Richie sent this very direct (and slightly rude) tweet back in May, the two have been inseparable on social media.
NO, SOFIA, I WILL NOT GET MY PANTIES OUT OF MY ASS BECAUSE YOU AND SCOTT ARE A THING.
Anyways, Disick and Richie have seemingly been going pretty strong. They have been posting about each other on social media and hanging out a ton for the past couple of months. A source told People in September, after they both returned from Cannes, "Since returning to L.A., Scott and Sofia are inseparable. They are spending every day together. Sofia seems smitten."
Random? Yes. Borderline creepy? Also, yes. However, Scott and Sofia seem to make each other happy, so who am I to judge that? If they're both happy, I suppose I can get on board. Except, this is Scott Disick we're talking about and he's definitely not dating anyone long-term or exclusively.
Proof of this came from a very unexpected place — Kylie Jenner's ex-boyfriend, Tyga. The "Rack City" rapper reportedly screen-grabbed Disick's profile on the dating app Badoo and shared it on his Instagram story with a bunch of laughing emojis. Pretty shady of Tyga, but he's willing to expose a f*ckboy, so I can't blame him for that.
Yes, obviously the account could be fake, but Disick's account on Badoo appeared to be verified. According to a rep from Badoo, to become verified on the app, "Users must go through Facebook, phone number and photo verification, where they're required to take a selfie copying one of the 100 suggested gestures. This is then compared to the user's profile and Facebook page, and approved by one of Badoo's 5,000 moderators around the world."
Soooo, basically, it's really hard to create a fake account. Once again — Scott, honey, what is you doing? This kind of confirms that Disick is not exclusively dating Richie (even if she may think so).
My biggest question is, "Why?" I think Scott has enough women on his plate, not sure why he would be trying to add more to the mix. He seems to be running the game while Kourtney is living the high life with her rumored boyfriend, Younes Bendjima, and has literally never looked better.
Whatever is going on with Scott, Kourtney, and their strange relationship — I hope they both find love and happiness. Also, Scott, good luck explaining that Badoo profile to Sofia. Woof.
Check out the entire Gen Why series and other videos on Facebook and the Bustle app across Apple TV, Roku, and Amazon Fire TV.