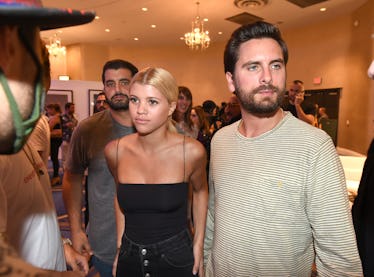 Scott Disick & Sofia Richie Are Reportedly Done Because Of This, & Yikes
Romain Maurice/Getty Images Entertainment/Getty Images
In the world of unlikely celebrity romances, the coupling of Scott Disick and Sofia Richie is definitely is a head-scratcher. Well, you can stop asking yourself how and whey they got together, because they are reportedly no longer a couple. Scott Disick and Sofia Richie reportedly broke up, and the reported reason why they ended things is so sad.
According to US Weekly, the couple called it quits due to reports that Disick recently cheated on Richie while he was in Miami. Furthermore, the source relayed to the magazine that the couple was still technically together when Disick was reportedly spotted getting cozy with another girl at Kanye West's Ye listening party in Wyoming on Thursday, May 31. Disick and Richie have a 16-year age difference between them, but they seemed to be going strong just last week when the couple celebrated Disick's birthday on Saturday, May 26. Elite Daily reached out to Disick and Richie's teams for comment, but did not hear back by time of publication.
Apparently there was trouble in paradise despite Richie's sweet Instagram post to Disick on his 35th birthday. Per E! Online, Richie didn't learn of Disick's reported cheating until they returned from his birthday trip to St. Bart's last weekend. Richie was also reportedly urged by her famous father, Lionel Richie, to end things with Disick following Disick's reported infidelity. Yikes, you know it's over once dad gets involved.
Richie and Disick were reportedly trying to work things out following the reports of Disick cheating in Miami, but a source told US Weekly that Lionel Richie pressed Richie to end things for good once Disick was reportedly seen engaging in some PDA while in Wyoming last week for West's listening party. According to the source, that was somewhat the final straw for Lionel, because the source shared that he "forbids them reconnecting and won't continue to support their relationship."
Another source that was at the listening party in Wyoming shared reported details of how Disick acted throughout the night, and he was reportedly "really sloppy" and "could barely speak." Yeah, that doesn't sound like the kind of boyfriend Lionel would want his 19-year-old model daughter around. Lionel's opinion reportedly means a lot to Richie, as a source relayed that the father and daughter are "extremely close."
The DailyMail.com reported that Richie told her father when she found out about the reports of Disick cheating, and Lionel reportedly wanted her to end things so badly that he reportedly said he would cut her off and "write her out of his will" if she were to stay in what Lionel reportedly called a "toxic" relationship.
With the reports of Disick cheating in Miami, the photos of him with a girl in Wyoming, and the insistence of her father pushing her to break it off, it seems as though Richie finally gave in and reportedly ended things with Disick.
The couple had been dating since the summer of 2017, and they weren't shy showing their affection for one another throughout their courtship. After going public in September 2017, Disick and Richie posted a cryptic Instagram video with a "congratulations" cake on Sept. 23. The internet went wild with the possibility that Disick (then-34-year-old father of three children with ex-girlfriend, Kourtney Kardashian) might have gotten engaged to Richie, who had just turned 19 the month before. There was no confirmation of an engagement at the time.
Disick and Richie kept showing their love for one another, even though some of the Kardashian-Jenner crew weren't so exited about this pairing. It's a shame that things are reportedly over over between Disick and Richie, because it was just recently reported that Disick and Kardashian had reached a good co-parenting groove, and Kardashian even reportedly gave Richie her blessing to be around the kids Kardashian shares with Disick: Mason, Penelope, and Reign.
If the latest reports are true, then that "blessing" was all for naught since it seems like Disick's reported infidelity has led to these two reportedly calling it quits. Well, it was odd while it lasted, so I don't think anyone will soon forget the very unexpected Disick-Richie romance.