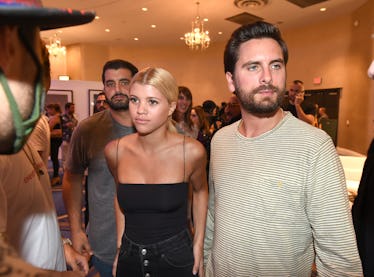 Sofia Richie Instagramed For Scott Disick's Birthday & They're Clearly Still Going Strong
Romain Maurice/Getty Images Entertainment/Getty Images
May 26 marks the "Lord" Scott Disick's 35th year on earth, and no one knows how to celebrate more than the man himself. In honor of her boyfriend's special day, Sofia Richie's birthday Instagram to Scott Disick is fit for true royalty. Happy birthday Scott!
On May 26, Richie took to Instagram to post a sweet picture of her and Disick cuddling in the ocean. Even though the backdrop is a picturesque beach, Richie's caption is as straightforward as it gets.
She wrote,
Happy Birthday babe! Thank you for being you. Love you.
Honestly, what else needs to be said? Maybe the Instagram post was a bit on the simpler side, but clearly Disick and Richie's birthday celebration was anything but that. That same day, Richie shared a few glimpses of the special night on her Instagram story, and to be honest I'm having serious FOMO right now. In her Instagram story, Richie posted a sweet, romantic photo of her and Disick in a lip lock. Later, the model posted two videos of Scott at dinner exclaiming "what, for me?" over some birthday deserts. Finally, in true birthday boy fashion, Disick enthusiastically blew out his candles to celebrate his best year yet.
I have to say, Scott Disick has certainly come a long way. If this was the early seasons of Keeping Up With The Kardashians, we could catch this dapper gentleman partying it up in Vegas. Now look at him, spending his days relaxing on a beach and squealing over birthday candles. Man, they grow up so fast.
Even though Richie was celebrating her boo thing's birthday all over social media, none of the Kardashian ladies followed suit. However, I'd like to think that they at least shot him a text on his special day.
The 35-year old father of three started dating 19-year old Sofia Richie in September, and even though his ex-girlfriend Kourtney Kardashian reportedly initially wasn't the biggest fan of the coupling, apparently they now have her "blessing." A source spoke to People on May 27 about the oldest Kardashian's feelings about the relationship, and how Richie is actually a good influence on Disick.
"Sofia is helping Scott be a better, healthier person," the source told People. "Kourtney feels confident that Scott and Sofia takes good care of the kids. Scott is a great dad when he has his life together."
Despite the 14-year age difference, these two clearly work. In February, Richie told E! News that what makes her and Disick's relationship so special is their shared sense of humor.
"I just think he's the male version of me. Our humor. We have very similar humor," Richie told E! News.
Disick and Richie's relationship might be heating up, but the 35-year old's priorities are clearly still his three children. On May 26, Disick posted a sweet photo of him giving a smooch to his daughter Penelope, and a few days earlier he shared a picture of his younger son Reign. In April, Disick and Mason hung out beachside and the proud papa documented the chill moment on social media.
Who knew Disick would end up being arguably the most dedicated father in the game? I remember just like it was yesterday that he and Kourtney found out they were having a baby boy, and Kourtney pulled Mason out herself to welcome him into the world. Truly iconic.
No matter how many years might pass, and how many kids he may have, Scott Disick will be royalty no matter what. Happy 35th birthday Scott, here's to many more years of being the best dressed man around town.
You only get better with age.