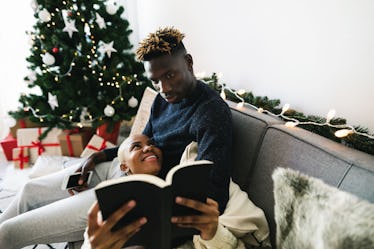 4 Reasons The Holiday Season Is The Most Romantic Time To First Say "I Love You"
When it comes to saying those three little words with a lot of meaning behind them, it can be hard to know when the time is right. When it comes to saying "I love you" during the holiday season, you should definitely make sure you are really ready to say ILY and not feeling pressured to do so. However, if the time is right and you know how you feel, the outcome could be pretty dang heartwarming. Trina Leckie, breakup coach and host of the podcast breakup BOOST, tells Elite Daily that that are three main details to take into account before saying ILY.
Firstly, according to Leckie, you've got to make sure you really feel this way. Saying you love someone before you're ready can end up hurting both you and your partner. Try to make sure you're not getting wrapped up in the holiday cheer or feeling pressure to say it at a certain time.
If you really know how you feel, the next step is assessing if your partner feels the same way. "No one wants to say I love you and not hear it back," says Leckie. Getting a sense of whether or not your partner loves you comes down to paying attention to how they treat you. It sort of comes down to the age-old phrase, "When you know, you know."
Leckie's final task is to remember that simply saying "I love you" doesn't do the hard work of loving someone in a relationship on its own. As a result, saying this isn't the end-all-be-all of relationship milestones. It's important for couples to not only say it to each other, but to also show it with their actions, words, and affection.
If you know how you feel and are pretty sure the love is mutual, the holidays can be a really lovely time to say ILY. And, TBH, can you think of a better present to give this holiday season? If you're looking for more validation regarding the holidays as the perfect season to say "I love you," check out the following reasons why it's hella romantic.