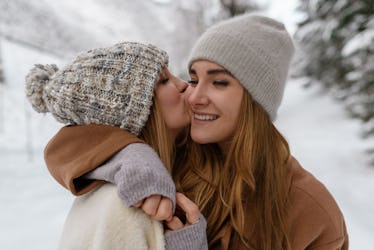 This Study Discovered How Likely You Are To Meet A Significant Other In December
If you're feel like you missed your chance to cuff with someone during this cuffing season, it's not too late! Your chances of starting a relationship in December are a lot higher than you might think. And cuffing season lasts a while, so there's still time for you. (*Cue your fave seasonal Mariah Carey hit.*) Being single and ready to, uh, jingle during December can be... challenging. The seasonal ice rinks popping up near you are practically begging you to try out ice-skating with someone cute (mostly as an excuse to hold their hand.) There's the holidays, the infamous New Year's Eve kiss, and, you know, all those chilly evenings that would be perfect for cozying up with a special someone. Now you just have to have the odds in your favor. Good thing, Elite Daily did some research on what those odds are.
Cuffing season starts with Oct. 1 and lasts until — you guessed it — Feb. 14, Valentine's Day. It's the period of the year when people are more actively looking to pair off with a partner for romantic and/or sexual connection. This season is the result of a few factors including colder weather, fewer daylight hours, and the impending holiday season. So, if you haven't quite found your match just yet but are still looking, Elite Daily's recent study has some helpful info for you.
According to Elite Daily's study of 119 participants ages 18 to 38, 60 percent of people said they'd met a significant other between Oct. 1 and Feb. 14. That's the majority, folks! Of the 60 percent of people who met their partner during cuffing season, 14 percent met their partners in December. And, when you think about it, that's a pretty decent amount! Plus, even if you don't end up meeting someone in December, you still have a 15 percent chance of meeting someone in January, and an 8 percent chance of meeting someone in the first half of February.
So, the good news? You still have a chance to meet that special holiday sweetheart this December. And the even better news? According to Elite Daily, more than 50 percent of the study's participants explained that their relationship lasted for a year or longer. So you could be looking for the real deal here, folks. Take this as your sign to finally shoot your shot with that cutie you've been crushing on for a while!
Always remember that there's nothing wrong with being single! Not having a partner during winter, cuffing season, and the holidays can sometimes be lonely or frustrating if you really want to be in a relationship. But hopefully, the fact that you still may meet someone is helpful. And, in the meantime, there are plenty of ways to appreciate being single during the holiday season. Because, after all, the holidays are about being grateful for all of the people in your life — including yourself!
And, honestly, the plot of every romantic Christmas rom-com doesn't start until December. You're actually right on track for a festive meet-cute.