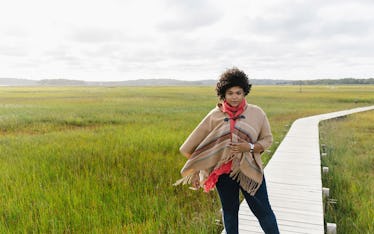 You'll Survive The Stress Of The Holiday Season, As Long As You Do These 5 Things
The holiday season is the most wonderful time of the year, but for many people, it's also the most stressful. I love string lights and mugs full of hot cocoa as much as anyone, but when there are travel plans to make, gifts to buy for picky siblings, and older relatives who like to share their, shall I say, interesting political views, things can sometimes feel less than joyful, you know? So, if you need some tips for handling holiday stress, I reached out to a couple of experts who can help you find a little focus and calm in the midst of the seasonal chaos.
For the record, if you are feeling overwhelmed by the holidays and everything that comes with the season, you're definitely not alone: A Consumer Reports poll found that 90 percent of the people it surveyed said there was at least one thing that they stressed about during the holiday season. Among the top worries were having to be nice to difficult relatives, going into debt, and disappointing gifts.
It's so easy to lose yourself in these concerns, and about a million more, but focusing on these tips can help you find your balance again. In the heat of an anxiety-inducing moment, bundle yourself in your fluffiest scarf and head out the door for a peaceful walk, or try a guided meditation to clear your head so you can get back to all of the warm gingerbread cookies and heartwarming holiday movies the season has to offer.