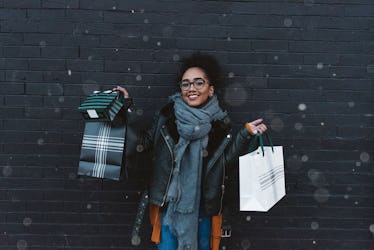 When You're Stressed About These 6 Little Things Over The Holidays, Here's How To Cope
The holiday season is in full swing, people. Thanksgiving may be over, but now, everywhere you turn, "Santa Baby" is on the radio, retail sales are pouring in like a summer storm, and you have to spend way too much time RSVP'ing to Paperless Post invites for festive potlucks. And sure, all of these things can be fun sometimes, but they can also fall under the category of little things that stress you out over the holidays — things that don't even have anything to do with attending your mom's yearly, neighborhood-wide gift exchange, or sitting next to critical Uncle Roger during dinner yet again.
Listen, friends, you are definitely not alone if the mere thought of the holidays leaves you feeling a bit tense. Pretty much everyone gets stressed this time of year — even Santa and the elves, I would assume. But for real, when Healthline polled thousands of its readers on how they feel about the holidays, a whopping 61 percent of millennials said they feel stressed out over Christmahanakwanzika. So yeah, it's definitely a thing.
But the good news is, once you're aware of what gets your stress levels worked up, you can start to practice things that'll help you stay calm and find balance. I spoke with a few experts about the little things that can get you down around the holidays (you know, besides your cringiest extended family members), and they had some pretty damn good advice for how to handle it all.