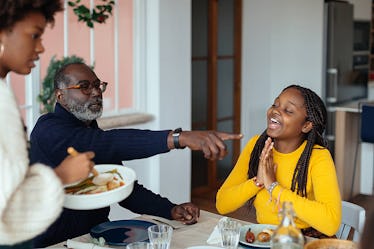 Keep These 5 Things In Mind If You're Worried About Seeing Family Over The Holidays
When you're a kid, you're so wrapped up in presents and chocolate snowmen during the holidays that you don't even realize the tension between the adults is so thick, you could cut it with a knife. But as a grown-up, you start picking up on all the inappropriate comments being made at the dinner table, the butting of heads, and you realize that, family or not, some people just aren't your cup of tea. Unfortunately, you have to figure out how to get along with family during the holidays, if for nothing else but to keep the peace.
Whether you'll be home for the holidays, visiting a relative, or splitting this season's festivities with your significant other, it's OK to admit that family togetherness isn't always super cozy for you; it doesn't mean you love these people any less. Still, if you can find a way to put the hard feelings aside for a party or two, I'm sure your hostess with the mostest would be forever grateful.
After all, it's hard enough getting so many people together to share a meal these days, and while I totally understand how it feels to be a little uneasy around certain family members, 'tis the season to come together and celebrate. So fa la la la la forget about them — for now, at least.
Before you get defensive, let me just clarify that your feelings are 1000 percent valid, that I've been there, and I know from experience that putting hard feelings aside, even for a couple of hours, can be very difficult. Difficult, but not impossible.
"During this time of year, we're bringing people together who have different personalities, different viewpoints, and different ways of handling conflict," Dr. Sherry Benton, psychologist, mental health care administrator, and founder/chief science officer at TAO Connect, tells Elite Daily. But, regardless of whether you see eye-to-eye with these people, she adds, "there is usually some sense of underlying positivity and feeling of support within most families." You just have find it.
So how do you keep your cool when the holiday season makes you feel anything but calm and collected? Here are a few expert tips to help you get along with the fam this season.