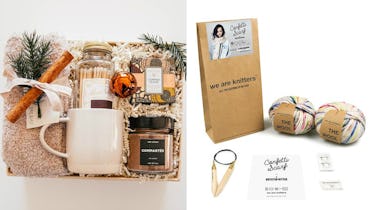 Treat That One Friend Who's ALWAYS Stressed To Any Of These 8 Gifts For The Holidays
BoxFox/We Are Knitters
It's beginning to look a lot like Christmahanakwanzika everywhere you go, and if this year is anything like the year before, and the year before that, the holiday season is going to be a lot. Don't get me wrong, Thanksgiving through New Year's is by far the most wonderful time of the year. But it's also the germiest, definitely the most expensive, and, between budgeting for gifts, buying them, hosting parties, and attending them, the holiday season can be demanding AF. My advice? Think of the best gifts for people who are always stressed, and start doling them out early, because someone who is naturally an anxious person probably struggles a little extra around the holidays.
Listen, I know myself, and even though this time of year is my absolute favorite, the social demands can be enough to make anyone's head spin. The truth is, the holiday season rarely mirrors those picture-perfect images depicted in every made-for-TV Hallmark film, and if you know someone who sweats the small stuff on the regular, imagine how they must feel trying to balance family dinners with ugly sweater parties, office grab bags, and so on.
Trust me, more often than not, the most perfect gift isn't the trendiest or most expensive on the market. Sometimes, the only thing your loved ones really want, or need, is to be heard, and to feel comforted. So, rather than pick up yet another fair aisle sweater to add to their collection this year, think about the little things in life that make you feel calm, and spread it around. Here are a few ideas to inspire you.