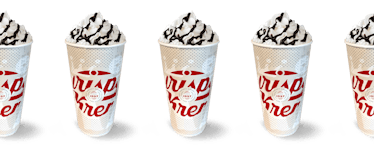 Krispy Kreme's Festive Peppermint Mocha Is Here Just In Time For The Holiday Season
Once the Thanksgiving leftovers have all been devoured, it's time to get into holiday mode. I'm talking about all the shopping, tree trimming, and, of course, enjoying as many festively flavored sips and bites that you can get your hands on. You probably have some go-to drinks that make their way into your morning coffee rotation when the snow begins to fall, but you'll want to make room for one doughnut chain's take on the flavor of the season. Krispy Kreme's Peppermint Mocha is here to keep you energized all throughout the holiday season.
In a tweet from the official Krispy Kreme Twitter account on Friday, Nov. 23, Black Friday shoppers got some good news that didn't have anything to do with major sales. The doughnut chain shared,
Looking to pick up the pace during today's #BlackFriday shopping race? Get moving with our new Peppermint Mocha.
I don't know about you, but nothing goes better with Black Friday discounts than a tasty sip that is sure to help you get into the holiday spirit. Now, you might be wondering what's new about the Peppermint Mocha, since it appears that Krispy Kreme has been offering the drink during the holiday season for the past few years. Elite Daily reached out to Krispy Kreme for further information about the Peppermint Mocha, but did not hear back at the time of publication.
In the picture accompanying the news of the "new Peppermint Mocha," you can see what look like red-and-white striped peppermint flavored candies and chocolate chips on either side of the cup, so you can likely expect some major chocolate and peppermint flavor in this sip.
In a 2015 press release announcing Krispy Kreme's Holiday Doughnuts, though, there is a description of Krispy Kreme's Peppermint Mocha. Per the description, the 2015 version was available either hot or iced, and it was made with "rich espresso, dark chocolate and frosty peppermint." The seasonal sip was topped off with "whipped cream and a cheerful peppermint bark topping." OK, if the 2018 version is similar to this delicious beverage, then I am totally on board with this festive twist on a classic favorite.
Need even more reason to try the "new Peppermint Mocha" that was announced by Krispy Kreme on Friday, Nov. 23? Well, what if I told you that you'll need a sip to wash down all the delicious doughnut offerings available at Krispy Kreme this season?
Cinnamon is another flavor that finds its way into all your fave drinks and bites this time of year, and there is no better way to get your fill of the spice than with Krispy Kreme's Cinnamon Swirl Doughnut. In a press release on Tuesday, Nov. 13, Krispy Kreme announced the arrival of it Cinnamon Swirl Doughnut, which is available in stores through January 2019.
When you bite into this seasonal confection, you'll get a "classic doughnut hand-tossed in cinnamon sugar and topped with decadent cream cheese icing and a gooey cinnamon swirl," per the release.
Krispy Kreme also announced even more holiday doughnuts on Saturday, Nov. 24 on its Instagram account. So, really, there is no shortage of festive bites to go with your Peppermint Mocha. The only thing left to do now is to get out and try one for yourself. Happy sipping!