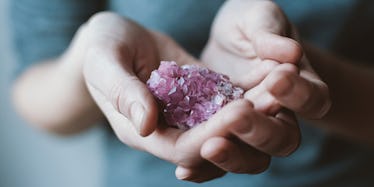 Carry These 5 Crystals Around With You For Less Stress & More Peace In Your Life
Stress is, unfortunately, an inevitable part of life. And while everyone has their own ways to cope with uninvited anxiety, something you may have never thought of is instilling a sense of calm through the power of healing crystals. There are a bunch of different crystals out there that all serve different purposes, but a handful of these minerals and gems are dedicated crystals that relieve stress, in particular.
I know what you're thinking: How the hell is carrying a rock around with me supposed to help calm me down in times of stress? As bizarre as it initially may sound, crystals have been used since ancient times for their significant healing properties, and the energy that each gem contains can, indeed, help lift your mood in an instant.
Now, I'm not saying that keeping a clear quartz rock in your pocket is going to relieve all of your stress for the rest of your life. But along with utilizing other helpful coping mechanisms, such as simple breathing techniques and meditation, crystals can be a great addition in managing those pesky, all-consuming anxious thoughts.
Try including any of these five peaceful gemstones into your day for less stress and more peace.