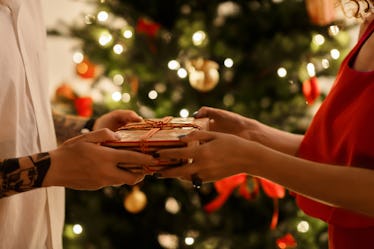 11 Gifts For The Friend Who Needs A Serious Breather From All The Stress In Her Life
Stress is unavoidable in life, but it tends to get worse for many people as we get closer to the holidays. On top of your daily activities, you have to think about organizing get-togethers and gift exchanges, purchasing said gifts, and making time for family you haven't seen in a while, just to name a few of the season's responsibilities. When you think about it that way, it's easy to see why literally anyone — even the calmest, coolest, and most collected of us all — would be happy to receive gifts for stress relief. Compiling a list of these soothing presents is honestly the best way to not only spread good cheer during the holidays, but good vibes, too, which we can never get enough of, right?
It can be hard to think of gifts to give the loved ones in your life, regardless of how close you are to them. Sometimes your best friend can be the hardest person to shop for, and that doesn't even begin to describe the pain and suffering that can go into shopping for some co-worker you don't even know for the gift exchange at your office. Gift-giving can be a bundle of stress all on its own.
But if you start looking at some of these stress relief holiday gift options, you might just begin to relax yourself. All of them encourage a healthy, happy lifestyle — something that is so simple, and yet so often elusive, especially during this time of year. Here are 11 stress relief gifts that anyone in your life would be happy to receive.