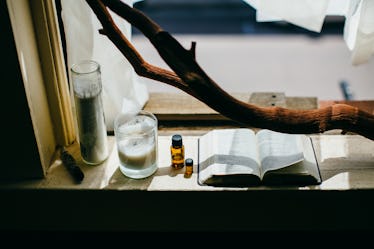 8 Essential Oils For Mood Swings That'll Bring Some Balance Into Your Life
Essential oils might not be the most obvious form of relaxation for some people, but they should be. For the same price of your average CD (and yes, I do still buy CDs), you can completely revamp the way you approach self-care. After all, essential oils aren't just for making your room smell nice; they have major health benefits that you can reap by dabbing a drop or two on your wrist or temples every day. There are even essential oils for mood swings, which will help you find the balance you crave on the most chaotic of days.
Essential oils can be used in so many ways, and though different types can be used for different purposes, they all work to center your mind, body, and soul. These oils can help alleviate symptoms of anxiety and depression, soothe the nervous system, combat inflammation in the body — basically, there's an essential oil for just about anything you can think of.
And, if you ask me, one of the best things about essential oils is how available they are. It's not like you have to go to some hole-in-the-wall Brooklyn joint to find them. There are literally endless amounts of oils to choose from online, and they won't even do any damage to your budget.
Here are eight essential oils for mood swings that'll help you maintain balance when you need it most.